Nucleus Gaming Slots
Not as well known as some other slots vendors but gaining in popularity, we review Nucleus Gaming Slots and their games.
Developing Games for Years
We have not gotten confirmation from the company as of yet as to when they launched but some of their slot titles date to mid 2016. Like many other better known slot vendors Nucleus has been releasing slots at a regular pace since then. Their suite of games has certainly gained more attention in recent years as more casinos are offering their games.
Slot Features Players Enjoy
Many of the games in the Nucleus release list offer varying features from game to game. Some will have a double up feature that allows a player to wager any regular win double or nothing. Additionally some other games will have wilds, scatter symbols and even have transitioning or expanding, sometimes referred to as cascading symbols. Bonus rounds and free spins are common in many games as well.
Growing List of Slot Titles
Almost since the beginning Nucleus Gaming slots have been releasing new games on a regular basis. In fact at last count they had over 116 games in their suite, this counts the table game titles. Some of the more popular titles are:
Call of Zeus
Dragon Watch
Safari Spins
Bandits and Bounties
Jack and the Mighty Beanstalk
Christmas Journey
Arabian Wishes
Critters
End Zone Riches
Jewel Falls
Party Paradise
Jingle Slots
List above is only a few of the more then 100 slots in their game catalog.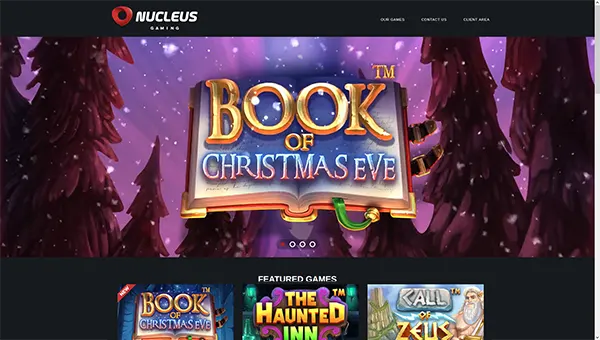 Operators Praise Nucelus Gaming Slots
We recently talked to a few operators that gave high marks to the slots from Nucleus Gaming. They remarked how quite a few of their titles had been marked as favorite games among players.
When player mark certain games and return to them often on subsequent visits you can be sure they most likely enjoy the game features and payouts.
Very Short Video Poker List
The list of video poker games they have developed is quite short. This is usually not a problem for most casinos since they usually have a few games providers. We expect that it is likely that their video poker lists will grow over time.
Impressive List of Table Games
Nucleus has a very impressive list of table games offering casinos nice choices to add to their gaming suites. More then 20 different games are on offer such as craps, 3 variations of roulette and quite a few poker games. Poker games such as Draw High Low, Oasis poker, triple edge and more. They also have a few varieties of blackjack like 21 burn, super 7 , pirate 21, pontoon, European and even a single deck variety.
All Games Mobile Ready
Obviously as important as mobile devices have become in today's world game providers must develop their games as mobile ready. Nucleus has that covered and all their games are mobile friendly when released. You can play them on a PC, an Apple device, tablet or mobiles phones running either Android or Ios.
Summary of Nucleus Gaming Slots
As regular slot reviewers we are exposed to many different providers. In summary we can clearly say with confidence that most regular slot players will enjoy playing their games. Many of their slots have the kinds of features they look for. Bonus rounds, wilds, scatters, rounds where the player interacts with the in-game choices and more.
Another thing we noticed is that many games have some incredible animations. Not only will many game icons have animations, but much of the surrounding game board animations will seem to interact with the board as well.
Overall Nucleus Gaming slots provide good entertainment and fair games, with very reasonable RTP percentages. There are a lot of casinos that have games from Nucleus and one we highly recommend is Bet Online Casino, or you may visit the one listed below or visit our casino review section for more choices.
Superslots

250% up to $1000
US Accepted
Mobile Available
Progressive Jackpots
Live Dealer Games
18+ Terms and Conditions Apply
See casino site for more information. Please gamble responsibly. 18+ begambleaware.org.