Temple of Athena Slot
Released in early 2023 the Temple of Athena Slot from Qora Games this game has been getting nice reviews from players.
Temple of Athena Distributed by Qora
Although you may see reviews mention this game may have been developed initially by Wohoo Games the distribution agreement for the game release is handled by Qora Games. At times you may find a number of games under the Qora Games label that might also be available at online properties that list the game under Woohoo Games label.
5 Reel Slot
This is a 5 reel video slot with 40 paylines. It uses a fairly common 5 x 4 grid, meaning 3 visible rows of 5 reels on the game board.
Greek Mythology Theme
Not the first slot to follow a theme centered around Greek mythology. This slot is about a goddess. The main character in the story is the goddess Athena. She is an ancient Greek Goddess who is known to be associated with wisdom and warfare. For more background about how she was know as a protector of cities see the Athena wiki here.
Temple of Athena Symbols
To introduce you to the game symbols or icons here they are briefly. For premium regular symbols there is a Goddess, and a Hippogriff. We'll be honest we do not know much about hippogriffs, except it is a legendary creature from Greek mythology that is half eagle and half horse. Other symbols you will see are a unicorn and an owl.
Additional symbols in reducing value are the A, K, Q, J and 10.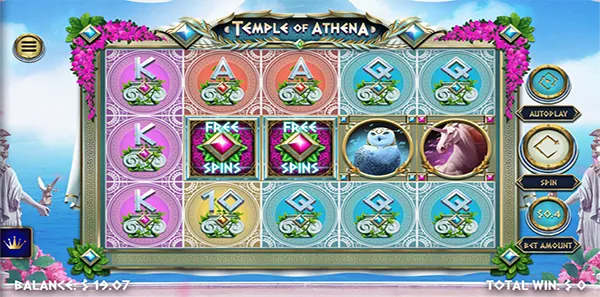 Pay Table from Game
Based on a $2.00 total bet we have provided an example of match wins. Any time you change you bet and view the paytable you will notced the payouts change.
Goddess matches of 5 are $2.50, 4 are $1.00, 3 are $0.50, 2 are $0.20.
Hippogriff matches of 5 are $2.00, 4 are $0.90, 3 are $0.40, 2 are $0.20.
Unicorn matches of 5 are $1.50, 4 are $0.75, 3 are $0.25.
Owl matches of 5 are $1.00, 4 are $0.75, 3 are $0.25.
A or K matches of 5 are $0.75, 4 are $0.50, 3 are $0.20.
Q, J or 10 matches of 5 are $0.50, 4 are $0.40, 3 are $0.10
Match wins are based on a multiple of bet per line, our example above is using a $2 bet.
Mystery Symbols
Mystery symbols have a question mark on them because it is a mystery until te reel stops. Once the symbol is landed in a spot it can change into any regular game symbol during the base game.
During free spins rounds the mystery symbols may only change into Goddess, hippogriff, unicorn owl or wilds.
Stacked Symbols
Each reel contains stacked symbols. The mystery symbols can turn into randomly selected symbols to fill the reel in a stack.
Any symbol can appear in any stack except for the scatters since they only land on reels# 2, #3 and #4.
And since the sane symbol may appear in large stacks on adjacent reels the potential for large wins is increased.
Temple of Athena Wild Symbols
Wild symbols act as a substitute for all regular symbols except the scatters.
In addition to helping payline wins as a wild, landing multiple wilds pay according to the following paytable.
2 wilds pay $0.50.
3 wilds pay at $1.00.
4 wilds will pay at $2.50.
% wilds will pay at $10.00.
As above we used a $2 wager amount for the match wilds payout.The biggest benefit you will see from wilds is in regular payline wins.
Scatters and Free Spins
Scatter land only on reels #2, #3 and #4. When you land 3 scatters you get free spins. The award is 8 free spins.
If you land 3 scatters again during the free spin round, 8 additional spins are added to the total left.
The wager for the free spin round is based on the wager that triggered the round initially.
Decent Range of Bet Amounts
Wit a low threshold of minimum bet amount of $0.40 cents the game can have appeal to even budget conscious players. Maximum bet amounts are at $200.00 so even the higher level players can enjoy the game well.
Average Return
Average return which many players know as the RTP (return to player) sits at 96.08%.
Review Conclusion or Wrap Up
This game has a number of features we actually liked. Stacked symbols and scatters that seemed to appear reasonably often enough was nice. We thoroughly enjoyed the mystery symbols and their conversions. We had a number of spins we landed large blocks of them for some decent wins during our testing. The theme and overall story was intriguing also.
Temple of Athena is certainly a game we will play again. You too can try this game by visiting one of our featured casinos below or see our reviews looking for casinos with Qora slot games.
Slots Casino

300% Match Bonus
US Accepted
Mobile Available
Progressive Jackpots
Live Dealer Games
18+ Terms and Conditions Apply
See casino site for more information. Please gamble responsibly. 18+ begambleaware.org.