Wilderness Wins Slot
We review the Wilderness Wins Slot game. See the features and symbols and why players play this slot frequently.
Dragon Gaming Slot with Uniqueness
This video slot developed by Dragon Gaming has a few unique features. Offering symbol locking of winning symbols and triggering of automatic respins during free spin rounds can pay very well. Read the review further as we explain how the free spins are triggered and how the automatic re-spins feature works. Also unique is the grid layout of the board.
General Theme of Game
Game theme follows the wilderness and nature. You will not be hunting for the animals in this game, except you will want to see them land and match on your paylines.
Game Board Layout
The game board layout is not a standard 5×3 grid. It is 5 reels, with the 1st and 5th reel being 3 rows. 2nd and 4th reel is 4 rows. Center reel #3 is 5, This is why you will see this listed as a 3x4x5x4x3 layout.
There are 57 fixed paylines in the game.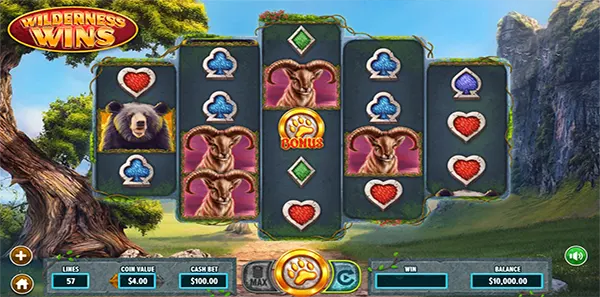 Symbol Introductions
There are 3 main premium symbols in the game. They consist of the White Tiger, the Bear and the Mountain Goat. Then there are also card suit symbols of red heart, purple spade, green diamond and a blue club.
Matching Symbol Pay Table
Direct from the pay table are the following win amounts awarded for matching symbols. Amount is multiplied by the coin value.
White Tiger matches of 5 for 150, 4 for 50, or 3 for 20.
Bear when matched of 5 for 100, 4 for 40, or 3 for 15.
Mountain Goat for matches of 5 for 70, 4 for 30 or 3 for 8.
Exact matches of any card symbol when matched 5 for 30, 4 for 12, or 3 for 3.
Matching symbols are paid left to right only, except bonus symbols on paylines. Only the highest win will be paid on a pay line. Match wins must be exact symbol matches.
Winning Combinations Trigger Re-spins
Any winning combination will lock the winning symbols in place. This triggers an automatic re-spin, possibly increasing the win. Additional matching symbols increase the win, they are also locked and the re-spin triggers again. This continues until there are no more additional winning combinations. At this point your win is collected and you return to the next regular spin.
Bonus Symbol Paw Prints
Bonus symbol is the paw prints symbol. The symbol only appears on reels #3, #3 and #4.
Landing 3 paw prints starts the free spin round with 5 free spins awarded. The multiplier increases with each, individual triggered, spin during the round up to maximum of 10X multiplier.
Symbol Locking During Free Spins
Winning combinations trigger re-spins during the free spin rounds also. During free spin rounds, the same re-pin features are seen. This feature alone can make free spin rounds pay extremely well.
Adjusting the Bet
Bet amounts are adjustable. With 57 fixed paylines the minimum bet is 25 fixed coins. This is somewhat unique that you have the possibility of more paylines then coins bet. You adjust the total bet amount when you change the base coin size.
Minimum coin size is $0.01 and a maximum of $4.00. This adjustment pegs the bets between $0.26 up to a maximum bet of $100.00 per spin.
Return to Player
As we normally cover in our slot reviews many players like to see the RTP on a slot before they play. The average return to the player from this game is estimated to be 95.87%.
Conclusion on the Wilderness Wins Slot Review
Initially we were skeptical about this slot since it does not offer the standard 5×3 grid we usually see in video slots. But we surprisingly did enjoy playing the game for the review. Upon closer inspection the board layout is easy to understand. The matching wins were very consistent and we enjoyed the symbol locking and auto re-spins. Since this is also active during free spin rounds we had a few sessions we enjoyed consistently.
The only thing we question is that we could not find any geographic area where both white tigers and mountain goats exist together. If we are wrong in that please let us know.
We will play this game again and if you would like to try the game, just visit a casino that has games from Dragon Gaming.
Bet Online

100% up to $1000
US Accepted
Mobile Available
Progressive Jackpots
Live Dealer Games
18+ Terms and Conditions Apply
See casino site for more information. Please gamble responsibly. 18+ begambleaware.org.