Hearts Desire Slot
See this Hearts Desire slot review for one of the latest 5 reel video slots from Betsoft. A decent RTP and players seem to enjoy the game.
Recently Released by Betsoft
Official release date for this game was January 26, 202.3
Game layout is a 5 reel board with 3 visable rows and 30 fixed paylines. Fixed paylines mean that 30 lines are active at all times every spin.
General Theme on Valentines Day
Many other reviewers have frequently said the slot is based somewhat loosely on a Valentines Day theme. We honestly do not see much of a connection except with the heart symbols. But do not let that stop you from trying the game, read this slot review to see why you can have fun with it. The heart and diamond symbols, as well as the extra wild symbols make it a lively game to try.
Slot Symbol Introduction
This game uses very common symbols seen in many games. We list them in a reducing value list. See the payout chart for win amounts.
First the premium symbol is the diamond. Following that is a single 7 symbol and then an orange. Working down the list next we have a bunch of bananas and a bunch of grapes. Final minor symbols you will see are a watermelon as well as cherries.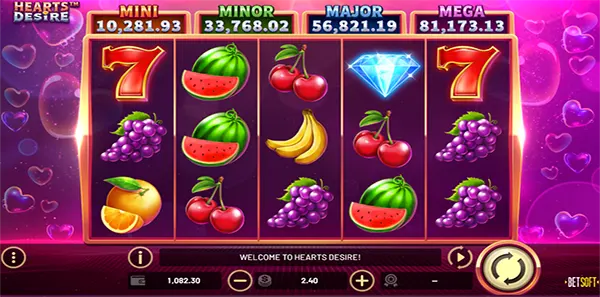 Payout Chart
Based on the dynamic pay chart from inside the game we are providing match win payouts. In order to provide the example, we are showing the win amounts for a wager of $1.20 per spin. Therefore, increasing the wager also increases the payout amount accordingly.
Diamond matches of 5 pay 40.00, 4 pay 2.30, 3 pay 0.80.
7 matches of 5 pay 12.00, 4 pay 1.60, 3 pay 0.60.
Orange matches of 5 pay 8.00, 4 pay 0.80, 3 pay 0.40.
Bananas or Grapes matches of 5 pay 2.40, 4 pay 0.60, 3 pay 0.32.
Watermelon of Cherries matches of 5 pay 2.00, 4 pay 0.40, 3 pay 0.20.
All match wins are counted on paylines for matches of like symbols left to right only.
Hearts Desire Slot Wilds
Included in the regular game spins are possible wild symbols. They will only land on reels 2, 3, 4 or 5.
The wild symbol acts as a substitute for regular symbols. It can substitute for all symbols except the golden heart or the purple heart.
Stacked Mystery Symbols
Each of the 5 reels contain a stack mystery symbol. Positions that are replaced with one random symbol before each reel is initiated.
Take note that the mystery symbol positions can be replaced with any one of the regular game symbols.
Golden Heart Scatter
The golden heart symbol is the regular scatter. Scatters can appear on all 5 reels.
Landing 5 or more golden hearts will then award you with 5 free spins.
Cumulative Heart Meter
Before the free spins begin the hearts are added to the cumulative meter. During the round golden hearts with be added to the cumulative meter and can help you earn additional free spins.
Hearts Desire Special Scatter
Included in the symbols are a special free spin scatter that can offer a multiplier up to 5X. This symbol is the purple gem heart. This symbol will only appear during free spin rounds.
Landing the purple heart will add a value to the cumulative meter helping yo get toward winning more free spins. Some purple hearts can have a multiplier of 2X, 3X or even 5X.
Progressive Jackpot
As a slot in the Betsoft network of progressives, this game has a mini, minor, major and mega jackpot. Any one of these jackpots can be won completely at random following he completion of any regular spin. No special symbols are needed for the jackpot trigger.
If the jackpot is triggered you get one free spin of the jackpot reel and can land one of the 4 jackpots.
Decent Slot RTP
The Hearts Desire slot is rated with a 96.13 % rtp. Listed as a high volatility we felt the return was well within ranges we look for in games.
Wager Amounts
Designed to fit even the budget conscious player the minimum spin amount starts at $0.30. This can be adjusted with a few clicks and allows for a maximum per spin amount at $120.00.
Conclusion to the Hearts Desire Slot
Overall a pretty decent slot game. Even though the symbols are very common among slots, the addition of 2 kinds of scatters increases the entertainment and win value to the game.
Although it may have traditional symbols, the addition of having 4 possible random jackpots adds that extra bit of incentive for this game when compared to similar slots.
You can find this game at any online casino that has Betsoft slot games. If you would like to try this game visit one of the recommended casinos below. Be sure to also see our other slot reviews here at this site.
Paradise 8

100% up to €/£/AU$/$1,000 (R10,000)
US Accepted
Mobile Available
Progressive Jackpots
Live Dealer Games
18+ Terms and Conditions Apply
See casino site for more information. Please gamble responsibly. 18+ begambleaware.org.