Endorphina Slots Software Review
See our Endorphina Slots software review and while the most well known software many players worldwide love playing their slot games.
Launched in 2012
Launching initially in 2012 Endorphina Limited has more then 10 years service the casino and slots industry. During that time they have grown considerably and their team now consists of over 100 developers and skilled professionals.
It has always been their goal to keep players in mind during game development. Taking a few minutes to play some of their games and we are positive you will agree.
Certifications and Licensing
Endorphina Slots Software is licensed by the Malta Gaming Authority as well as licensing authorities like the Hellenic Gaming Commission and others. They are ISO certified and their games have passed Gaming Labs certification.
Award Winning Software
Their games have been winning awards since 2015. In fact the games The Ninja as well as Satoshi's Secret won the reader's choice slot award in 2015 according to slots guide. Below are some of the additional awards won over the years. These are only a portion of awards and mentions of recognition:
The Ninja as well as Satoshi's Secret reader's choice slot 2015 from Slots Guide.
Product of the Year 2015 from Entertainment Arena Expo.
Slots Guide Best Online Slots Developer 2015.
Best Online Slots Developer 2021 from UGW Award.
Developer of the Year 2021 from Spice India Awards.
Rising Star in Casino Tech from BSG Awards 2022
Sigma Awards 2022 Best Slots Provider
Online Casino Tech Rising Star in CEEG 2022
Based on the list of awards and nominations they have gotten the last few years, it will be no surprise to see them win even more in the future.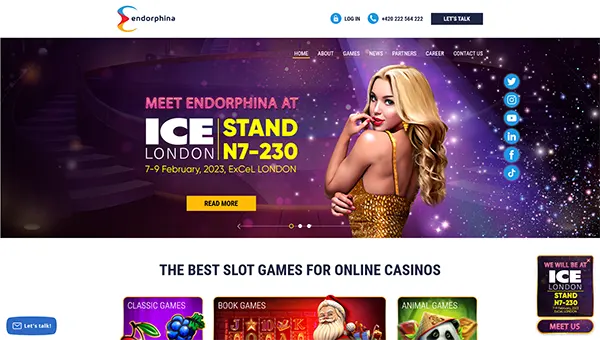 Superb Graphics and Game Play
Based upon feedback from individual players as well as players groups and operators one common compliment we hear of their games are the great graphics. We have personally been reviewing their slot games recently and we completely agree, each slot always has crisp clear graphics and high quality animations and symbol transitions.
Top Games Listed
We would not have the room to list all their games in a single article as the slots offered in their suite is well over 100 games now. Below are just a few of the very popular titles.
Satoshi's Secret
Goddess of War
Ninja
Kamchatka
Joker Stoker
Little Panda
Water Tiger
Voodoo Dice
Book of Santa
Football
Cyber Wolf
Red Cap
Geisha
The Emirate
Wild Love
Sugar Glider
Cupid
The Vampires
As mentioned the above list is merely a cross section of some of the many games available from Endorphina slots.
Turning Innovation into Fun
One thing you will notice playing these games are what the developers have invested in to the fun factor. They have the obvious things like wilds and scatter symbols but each game has that fun factor too. Many games have expanding wilds during free game rounds and often offer you choices in the gamble options. Some games may also offer bonus rounds buy-ins.
The majority of the slots have extremely easy to understand functions and make it easy to play. Finding the pay tables or help screens are always just a click away. Bet adjustments and in game options are logically laid out and easy to find.
Excellent Playability
The games just seem generally fun to play. We have noticed that the themes and story lines with many of the games are unique and some add a little extra to the game. You might want to help Red Cap get through the woods to Grandma's house. Or maybe you want to discover the mysteries of the Water Tiger legend, Endorphina slots software review can help with that. And have fun with some winning while doing so.
Adjustable Options
One of the many things we truly like about their games are all the options that are adjustable. You can adjust your wagers, sometimes in the number of lines played, coin sizes and number of coins played per spin.
We truly like being able to have total control over the sound. Not only can you turn the sound on and off, but you can adjust the volume, but you can also raise or lower the sound effects or background sounds independently. Players often have different opinions about this, and may just disable sound. We often like the sound effects of the game wins and symbols, and lower the background music. Really nice to have that option.
Many Languages Offered
Since the offer games in many different countries and jurisdictions, you often have a choice of language as well. Some games offer up to 30 different languages.
Autoplay Adjustments
In addition to just simply picking how many spins to play there are more options. Often you can pick whether auto should stop after a certain number of minutes, or to stop if your balance changes by a certain percentage, both up or down. This is a nice addition of options not all software offers and is another thing that helps them stand out in the industry.
Reasonable RTP
Based upon our research of over 100 games, the majority of the slots have good return to play percentages. While we found a few in the 93.75% range the vast majority are in the 96% range. In our opinion this is very acceptable.
Endorphina Slots Software Review Conclusion
This slots software certainly has a lot going for it. No doubt why they have won so many awards and continue to be nominated by other industry professionals each year. We certainly look forward to many more of their game releases in the future.
We really have only one thing we feel needs improvement, and that is we would like to see their games offered at more casinos, and are confident their expansion in to more casinos will continue.
If you like slots and reside in one of their jurisdictions, be sure to check out some of the casinos offering Endorphina slots.
Slots Palace

100% up to €500 / 750 CAD
Mobile Available
Progressive Jackpots
Live Dealer Games
18+ Terms and Conditions Apply
See casino site for more information. Please gamble responsibly. 18+ begambleaware.org.
Always Gamble Responsibly
Please gamble responsibly and remember that any time you would like help there are many places and organizations around the world you may reach out to for advise such as begambleaware.org or www.gamblersanonymous.org/ga/