Jumping Jaguar Slot
Read the slot review to see why the Jumping Jaguar slot game from Rival games continues to be a top performer.
Released by Rival Gaming
This slot from Rival on August 9, 2017. Believe it or not the game consistently ends up on the top performers lists at many casinos. The reason it stays on those lists is because returning players enjoy playing the slot game.
5 Reel Jumping Jaguar Slot
Popularity of this game is based n a number of factors. A true 5 reel video slot with 30 paylines. Medium volatility and yet an RTP that is in an acceptable range players enjoy.
Game Theme
The Jumping Jaguar slot takes place in the rain forest. Jaguars are known as symbols of power. Before anyone clarifies that jaguars are most often not black, although rare they are known to be seen on occasion in the Amazon.
A jaguar is the main character in the game and reality is that other forest animals always take notice when a jaguar is on the move.
Introducing the Slot Symbols
Starting with the premium symbols you will see the Jaguar as the most valuable symbol. Next we have the eagle and then a tamarin (which is a small monkey) followed by a purple fruit. We believe the purple fruit represents the camu camu, also knows as rumberry.
Next up on the list of symbols are a lizard, a maracuya also known as a passion fruit. These are followed by a leaf cutter ant, a red flower also known as a passion flower. Then there is a toucan as well as a snake.
Minor symbols are the macaw, purple flower, a sloth and finally a frog.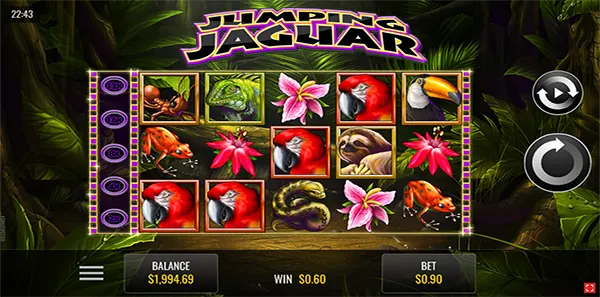 Matching Symbol Win Amounts
The breakdown for matching symbols on paylines are as follows:
Jaguar matches of 5 are 2500, 4 are 250, 3 are 50.
Eagle matches of 5 are 2000, 4 are 200, 3 are 40.
Tamarin matches of 5 are 1500, 4 are 150, 3 are 35.
Rumberry matches of 5 are 1000, 4 are 100, 3 are 30.
Lizard matches of 5 are 600, 4 are 90, 3 are 25.
Maracuya matches of 5 are 500, 4 are 80, 3 are 20.
Ant matches of 5 are 400, 4 are 70, 3 are 15.
Passion Flower matches of 5 are 200, 4 are 60, 3 are 10.
Toucan matches of 5 are 150, 4 are 40, 3 are 8.
Snake matches of 5 are 100, 4 are 25, 3 are 7.
Macaw matches of 5 are 80, 4 are 20, 3 are 6.
Purple Flower matches of 5 are 60, 4 are 15, 3 are 5.
Sloth matches of 5 are 40, 4 are 10, 3 are 4.
Frog matches of 5 are 20, 4 are 5, 3 are 4.
Match wins are based on consecutive matching symbols on a payline counted left to right. All regular wins are multiplied by the coins staked per line.
Jumping Jaguar Slot Wild
Jumping Jaguar wild is easily distinguished since it also has a 2X on it. The wild will substitute for all regular symbols in the game except the scatters or super round symbols.
Wild symbol will expand to fill the entire reel whenever it is possible it would create a new win. Expanding wild symbols appear on reels #1, #2, #3 and #4 during regular play as well as during free spin rounds.
Golden Jaguar Scatter
Scatter wins pay when landing anywhere on the game board. When you get 3 or more scatters you trigger the free spins round. Free spin rounds will also have a multiplier.
Landing 3 scatters are 5 free spins.
For 4 scatters you get 10 free spins
15 free spins are awarded for landing 5 scatters.
The Hunt Super Round
3 or more Silver Jaguar scatter triggers the Hunt Super round. The super round provides 5 spins + 1 coin. During super round spins only the 7 animal icons are displayed and they become drop icons.
When a drop icon appears, the icon disappears and the icons above drop down to fill the spot, increasing potential wins. A drop icon will only pay once during a sequence.
Bet Amounts
You can adjust the bet amounts in multiple ways. First the coin sizes range from $0.01 up to $0.25 each coin. You can also adjust the number of coins from 1 up to 10 coins per line bet. Total number of lines can also be adjusted if you prefer.
Changing Strategy By Amount Bet Per Spin
There are a number of different strategy ideas among slot players when playing adjustable coin sizes. We usually prefer to play more coins per spin even if it means lowering the coins size. You will have to decide what suits your strategy and budget when playing.
Reasonable RTP of 94.58%
The Jumping Jaguar slot is listed as having a medium volatility rating. That said the rtp sits at 94.58 over the long term.
Our Conclusions on the Game
Well pleased with the game play of this slot. Having a fairly lengthy list of regular symbols does not seem to reduce the amount of match wins during regular play. Free spin rounds as well as the bonus will keep your interest in the game. The expanding wild was very helpful in some of our tests.
It became quite clear to see why this is a very popular game among Rival gaming slot fans for many years. We think you will also enjoy trying this game out. Just visit a recommended casino that has Rival slots.
This is Vegas

200% up to $1000
US Accepted
Mobile Available
Progressive Jackpots
Live Dealer Games
18+ Terms and Conditions Apply
See casino site for more information. Please gamble responsibly. 18+ begambleaware.org.