Small Soldiers
With cartoon or comic styled characters in the military the slot Small Soldiers tells the story from training camp.
A Fun 40 Line Slot Game
Utilizing a standard 5 reel by 3 row layout with really fun characters. Offering scatters and wilds as well as free spins this slot has everything players look for.
Small Soldiers Theme
The story line behind the game takes place in a training camp for small soldiers. The characters and symbols are designed in a cartoon style, even toy like adding a bit of extra humor.
Each of the characters trust their training and are always ready to fight.
Let's Meet the Troops
To introduce you to the characters and symbols we look at them. First the primary character is an infantry troop, followed by a medic. Next up are the fighter jet, helicopter, a tank and a jeep in a sort of humvee style.
Each of the cards as minor symbols also have military symbols on them. These include A with dog tags, K with a helmet. The Q has a field med kit and the J has a canteen.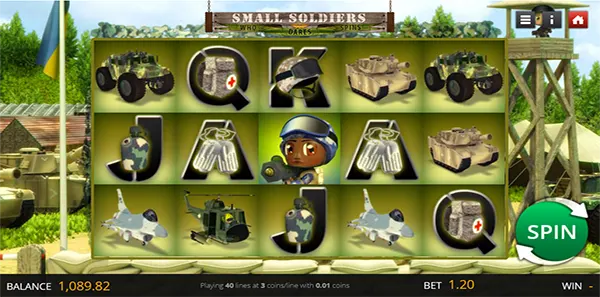 Match Win Multiplier Amounts
Match wins count left to right. Matches must ve exact matches of symbols.
Infantry matches of 5 = 3000x, 4 = 150x, 3 = 50x.
Medic matches of 5 = 1000x, 4 = 120x, 3 = 35x.
Jet matches of 5 = 500x, 4 = 100x, 3 = 30x.
Helicopter matches of 5 = 400x, 4 = 80x, 3 = 25x.
Tank matches of 5 = 300x, 4 = 60x, 3 = 20x.
Jeep matches of 5 = 100x, 4 = 40x, 3 = 18x.
A dog tags matches of 5 = 75x, 4 = 30x, 3 = 16x.
K helmet matches of 5 = 50x, 4 = 25x, 3 = 14x.
Q med kit matches of 5 = 30x, 4 = 15x, 3 = 12x.
J canteen matches of 5 = 20x, 4 = 12x, 3 = 10x.
Payline win amounts multiply by the credits wagered per line.
Drill Sergeant
Wild symbol is represented as the drill sergeant, although the developer has called him an officer. Responsible for much of a soldiers early training in discipline and procedure this symbol will help you with wins.
The wild symbol substitutes for all regular symbols but not the scatter. In addition to the wild helping match wins it also has a payout as follows for multiple wild symbols.
2 wild symbols = 8x.
Get 3 wild symbols = 150x.
Land 4 wild symbols = 850x.
Get 5 drill sergeant wild symbols = 6000x.
All wins that use a wild for payline matches pay double.
Feature Scatter Symbol
Not sure why the feature scatter is called artillery but it is. To us it appears they are carrying a shoulder launched anti tank weapon, but this is the scatter. Landing 3 or more of this scatter triggers the feature round.
A random prize for each target hit. Hitting a collect ends the round. Prizes award at the end of the round. The scatter has an additional payout amount based on the following chart.
3 scatters = 5.
4 feature scatters = 20.
Land 5 feature scatters = 100.
Feature game wins are not multiplied by free spins multiplier. Prize win amounts proportional o the total bet of the triggering spin. Thus the higher the bet the higher the prize wins.
Free Spins Scatter
Free spins scatter is in the form of a fighter pilot. Landing 3 or more is a bonus payment in addition to the free spins. Pilot bonus scatters count anywhere on the board. Free spins at the following amount.
3 pilot scatters = 6 free spins and a 2x multiplier.
Get 4 pilot scatters = 9 free spins with a 3x multiplier.
Land 5 pilot scatters = 12 free spins with a 4x multiplier.
Free spins bonus wins are 3x = 5, 4x = 20 and 5x = 100. Additionally, the free spins will not re-trigger during the round.
Slot Per Spin Bet Range
This slot has a bet range start at $0.40 minimum. The maximum in the range is $50.00 per spin. You adjust this in coin sizes or number of coins oer line as this gives you much freedom in the range.
Decent Return to Player
Many slot providers and testing groups will rate slots based on the theoretical return to play. This is called the rtp.
The Small Soldiers slot has an rtp at 96.30%. This means that over the long term 96.30% of wagers are returned to the player.
Conclusion
We enjoyed the look and feel of the game as well as seeing the animations of the solders and other symbols. Multiple scatters and the wild symbols hit in reasonable amounts during our testing sessions for he review. We thoroughly enjoy the feature game and was fun firing at the targets both in functions and win amounts.
To conclude, the review this game is really fun and we can see why it is popular among players. Be sure to visit your favorite Saucify casino and give this game a try. We think you will enjoy it as much as we did.
Slots Casino

300% Match Bonus
US Accepted
Mobile Available
Progressive Jackpots
Live Dealer Games
18+ Terms and Conditions Apply
See casino site for more information. Please gamble responsibly. 18+ begambleaware.org.