Slots Software Reviews
Slots Software Reviews of the online software providers is a lengthy list. We look at various developers supplying online casinos.
Growing List of Slots Software Vendors
There are literally hundreds of software developers that serve the online casino and slots industry. The list continues to grow frequently with new companies breaking in to the the market.
Throughout our slots site
Investigative and Thorough Reviews
We have covered the most popular vendors and we strive to continue to provide investigative and thorough reviews of more vendors as they are added. Providing they pass quality review and trusted casino operators offer their games. If players show an acceptance to play their games, and we see continued growth and high ratings for the vendor we certainly want to to cover them.
Reviews of Various Slot Software Providers
We will review the various slot software providers and developers. This may give you an insight as to the history and focus and help you understand which games you prefer and why.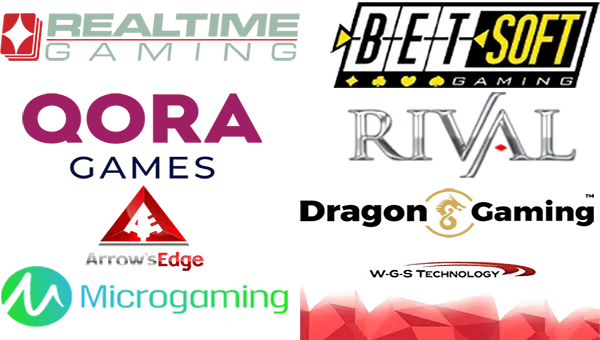 What Our Reviews Contain
The format of our slot software reviews do vary somewhat, but lets look at some of the basics our reviews contain.
History of the Vendor. In most cases just a brief overview.
General Availability. Briefly covers whether the vendor is proprietary to a limited number of casinos or licensed at many operators.
Popularity and General Acceptance. We will try and determine how well players like their games. To accomplish that we'll monitor the various players forums and blogs to help judge the acceptance by players.
Estimated Number of Games. This will be a general figure. Since most vendors release new games so the number will likely grow shortly after review is released.
Types of Games Available. Some vendors may be slots only, and some may offer other games. We will indicate that for players that like other games.
Are Progressive Games Available. Whether the games have huge network progressives or standard random jackpots, are they generally available in some games.
Our General Conclusions. We will often conclude the review with our general feeling about the vendor. Also included is whether we feel that players will enjoy their games. Do they look forward to seeing them available at more operators.
Additional Topics as Needed.
High Focus on Slots Reviews
As we review the slots software vendors, we will obviously focus more heavily on their slot development. Looking closely at the types of slots they are releasing, and the features the games have.
Most often we may review some of their specific games first on out Slots Games Reviews section. This will help us get a better feel for the types of slots they are creating.
Slot Features Only Briefly Covered
While we may mention briefly if a vendor's slots have bonus rounds and scatters or wilds, we will not focus on that. We do discuss the bonus rounds and other feature games in individual slot game reviews. If you are looking for specific game features in slots, be sure to look at our slot game reviews.
Trusted Developers Only
As we mentioned above, we do fair amount of investigation in to the vendor while reviewing them. We look closely at which casinos have chosen to use their software. We are careful as to which casinos we recommend. And if a chosen trusted operator starts offering a software in their game suite, we likely want to look at that vendor for consideration also. If you would like to see more about which online casinos we recommend for slots, see our slots casino reviews.
Bet Online

100% up to $1000
US Accepted
Mobile Available
Progressive Jackpots
Live Dealer Games
18+ Terms and Conditions Apply
See casino site for more information. Please gamble responsibly. 18+ begambleaware.org.