Triple Juicy Drops
A 5 reel slot called Triple Juicy Drops that is an interesting twist to a video slot with unique features in the game.
A Popular Release from Betsoft
At first glance you might think this is some candy crush or child's game and that would be incorrect. This is an interesting change from a normal video slot with some game features that are similar. Read the review below to see game features and how you can win with this game too.
More Than a Video Slot
Even though it is considered a video slot it is much more then that. Using a 5×5 grid that pays horizontal wins. Reels cascade after each win.
There are no set number of paylines and wins can be paid on any line with horizontal, as well as vertical matches.
Triple Juicy Drops Regular Game Symbols
Helpful for many players is knowing what symbols they will see in the game. First the high paying premium symbol is the diamond. Other symbols are fruit symbols and they vary in payout amount, see the table below for payouts.
Symbols are as follows, the watermelon, orange, lemons, grapes. Additional symbols are the plum, raspberry, bananas and cherries.
Unique Cascading Symbols on Winning Reels
Very unique to most slots is the method of cascading symbols in Triple Juicy Drops. Each time there is a match win, once collected, the winning symbols are cleared from the board and new symbols drop in to replace them. This can mean an additional win in the spin.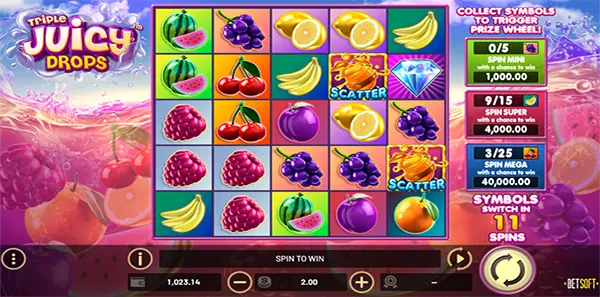 Match Wins Paytable
Below we show he paytable for match wins. Match win amounts are based on the payout on a $20.00 per spin bet.
Diamond match 5 pays 400.00, 4 pays 160.00, 3 pays 100.00.
Watermelon match 5 pays 300.00, 4 pays 150.00, 3 pays 50.00.
Orange match 5 pays 200.00, 4 pays 100.00, 3 pays 40.00.
Lemons or Grapes match 5 pays 100.00, 4 pays 60.00, 3 pays 30.00.
Plum or Raspberry match 5 pays 50.00, 4 pays 30.00, 3 pays 20.00.
Bananas or Cherries match 5 pays 20.00, 4 pays 10.00, 3 pays 4.00.
To provide an additional example, matching 5 diamonds would pay $40.00 on a $2.00 spin bet.
Winning combinations are paid on 3 or more matches horizontally, or vertically of like symbols.
Prize Wheel Timers
During all regular play winning symbols, once counted and collected will also advance the timer associated with the prize wheels. These show to the right of the game board. Identified is the number of spins left before the random chose symbols will rotate and start a new set of advances.
There are 3 prize wheels, Mini, Super and Mega, and each one will be associated with a specific symbol, which changes every 20 spins.
Mini Prize Wheel needs 5 symbols collected.
Super Prize Wheel needs 15 symbols collected.
Mega Prize Wheel needs 25 symbols collected.
Triple Juicy Drops Prize Wheel Round
When you advance any one of the three timers before it resets, you start the round. There are 3 potential prizes on the wheel. You can win one of the large, grand pr massive grand prizes, a random number of free spins, or instant win prizes.
Players get 1 spin on the selected prize wheel for each symbol on the meter you have completed. Prize amounts vary depending on the bet amount from the spin that triggered the round and also which collection symbol on the timer when completed. For a more detailed breakdown of the prize wheel amounts, log in to the game and see the paytable and detailed rules section.
Wilds
Wild symbols are clearly marked as wilds. They substitute for all regular symbols except scatters. Wild symbols will also count as the replaced symbol on the prize wheel counter if that symbol is currently active.
Players can be awarded 3 to 5 wilds with multipliers of 2x or 3x for vertical or horizontal wins at the same time.
Scatters and Free Spins
There are 2 ways to win free spins. One way is you win them as a possible prize from the prize wheel, defined above. You also win free spins by landing 3 or more scatters on the game board. They can land anywhere on the board to count. Get 3 scatters for 10 free spins, 4 will reward 12 and 5 scatters pay 15 free spins.
During free spin rounds wilds may appear with multipliers up to 3x. Free spins are cumulative, so if you win 10 free from the prize wheel and 10 from 3 scatters, they will be added together with the prize wheel spins taking place first. The prize wheel counters are not accessible during free spin rounds and symbol timers do not advance during the round.
Wager per Spins Amounts
Wager amounts are adjustable and start as low as $0.30 per spin. Max wager amount is at $29.00 per spin.
RTP %
The long term return to player % sits at 95.73.
Verdict on Triple Juicy Drops
Upon first look of this game for a review, we thought we would not like it. The was a mistake in re-judgement. This game is a lot of fun, The ability of match wins both horizontal and vertical is a huge plus. Not requiring left to right or right to left matches only is a nice feature. The dropping symbols after a win gave us multiple wins on spins quite a lot. Often we try to play the games a few times, sometimes at different casinos during a review and compare game sessions. For this game we looked forward to the return sessions since a few of the reviewers liked it. Extremely high ratings on the entertainment scale.
Certainly a game we will play again and gets a strong recommendation of one to try out. Visit a casino that has Betsoft games and give it a try, we think you will enjoy the game.
Superslots

250% up to $1000
US Accepted
Mobile Available
Progressive Jackpots
Live Dealer Games
18+ Terms and Conditions Apply
See casino site for more information. Please gamble responsibly. 18+ begambleaware.org.