Trinity Reels Slot
With unique and new game features be sure to read our review of Trinity Reels slot from Betsoft with many ways to win.
6 Reel Video Slot
Betsoft has released this slot with some very interesting and intriguing features. You will see cascading symbols, split symbols that count for up to 3 in one spot. Additionally there are mystery symbols, wild boosted symbols and multipliers and more new and unique methods to win.
Trinity Reels Slot is Cutting Edge
At first glance it is difficult to describe this new slot from Betsoft other then to start out by saying cutting edge. Besides having mystery symbols that cascade into other symbols for wins they have a number of unique features. Mainly unique is the use of split symbols that can actually count for up to 3 symbols in a single spot. That means that on a single reel there can be up to 9 symbols in the 3 spots on a 3 row grid.
The game uses a 6 x 3 grid total, with the split symbols possible on reels 1 through 5.
Symbols Available
Let's take a look at the symbols seen in the Trinity Reels slot game. The main symbols are actually gemstones identified by color or shape.
The gems are a blue diamond, purple gem shaped like a trident and a pink octagon, Additional gens are the red 5 sided pentagon, and orange square followed by a yellow triangle gemstone. The minor symbols are the A, K, Q, J, 10.
If you look at the screen shot of the game below you can see examples of the symbols. Also make note in the example are a few single, double and triple split symbols.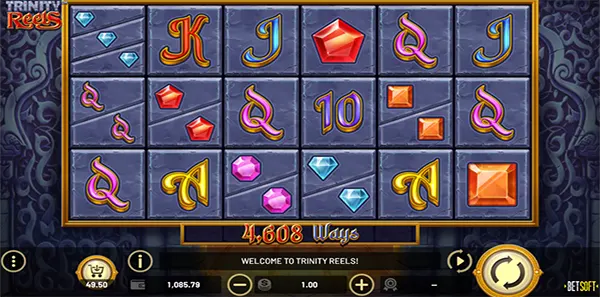 Example of Pay Outs
To help the example of the pay table we used a bet of $1.00 per spin. The table is dynamic so if you change the bet and look again you will see the payout amounts for the chosen bet.
Diamonds matches of 6 pay 4.00, 5 pay 2.40, 4 pay 1.60, 4 pay 0.80.
Trident matches of 6 pay 2.40, 5 pay 1.60, 4 pay 0.96, 4 pay 0.56.
Octagon matches of 6 pay 1.60, 5 pay 1.20, 4 pay 0.56, 4 pay 0.40.
Pentagon matches of 6 pay 1.20, 5 pay 0.96, 4 pay 0.56, 4 pay 0.40.
Square or Triangle matches of 6 pay 0.96, 5 pay 0.56, 4 pay 0.40, 4 pay 0.24.
A or K matches of 6 pay 0.56, 5 pay 0.40, 4 pay 0.24, 4 pay 0.16.
Q, J or 10 matches of 6 pay 0.40, 5 pay 0.32, 4 pay 0.24, 4 pay 0.16.
Line wins are paid on matches of like symbols only. Matches are counted starting with the left most reel in consecutive order left to right.
Trinity Reels Split Symbols
The split symbols can appear on reels #1 thru #5. Any symbol can appear as a split symbol except for the scatter and wild.
Split symbols allow for regular game symbols to count for 1, 2 or 3 symbols in a single spot on a winning payline. Split symbols do not appear on reel #6.
Once winning symbols are counted,
they are removed from the reel and other symbols cascade down to replace them.
Mystery Symbols
Mystery symbols have a chance to appear with every cascade. The mystery symbols only appear on reels #1 through #5. Mystery symbols may be replaced with regular symbols only and not, wilds, free spins, boosts or multipliers.
Sixth Reel Specials
The sixth reel in this game is very special. Yes the regular symbols may appear there but there are also some special symbols on reel #6.
This is where the Wild Boost, the Split Boost and the Multi Boost can appears. These boosts are design to enhance the game play and increase your wins. The special boost symbols can land in more then one position in any single spin.
Wild Boost
When landing the wild boost symbol you will see up to 2 symbols turn into Triple Wilds. Only regular symbols that are not wild or scatter will transform. In this case the transformation of the symbols will only take place on reels #2 through #5 but certainly can bump the wins.
Split Boost
When the split boost symbol lands on reel #6 you will see 2 or 3 symbols on reel #1-#5 change in to triple slit symbols. In this case only symbols that are not triple split or scatters will transform or split into 3.
Multi Boost
Yet another boost you will see is the multi boost symbol. When it lands on reel #6. Seeing this symbol is nice as it will randomly transform in to a multiplier. This will multiply any wins on the board by a 2x, 3x 5x or 10x.
Each of the special boost symbols count in your total. The reels will then cascade down and replace the missing symbols.
Scatter Symbol is Free Spins
Landing 3 or more scatters on the board triggers the free spins round. The free spins award is 10 free spins. Bet amount for the round is the bet that triggers the round.
At the start of the round a random symbol is selected. The choices are wild boost, split boost or multi boost. Whichever boost is selected they may show more frequently on reel #6 during the round increasing you chances of wins even more.
Trinity Reels Slot RTP
This slot game is considered to have a 95.96% rtp. What that means is that over the long term it is expected to have a return to player of that amount.
The game is considered to be high volatility but does have a fairly high hit rate of 20.03%.
Minimum Bet Amounts
The minimum wager amount is $0.20 with a maximum of $26.00 per spin.
You change this by simply clicking the plus + or minus – at the bottom of the game board.
Conclusion to Trinity Reels Slot
This slot game has some unique features we had not seen previously. We did read through the paytable and symbol explanations first and glad we did. Without doubt this helped us understand how the split symbols worked and what to expect. Furthermore the special boost symbols were welcome each time they landed for extra wins. In conclusion we must say this game gave us some welcome surprises and we did enjoy playing it for the review.
You can play this game at online casinos that have the Betsoft slot games. We have listed one of the featured casinos below.
Ripper Casino

AU$10.00 Free
Mobile Available
Progressive Jackpots
Live Dealer Games
No Deposit Bonus
18+ Terms and Conditions Apply
See casino site for more information. Please gamble responsibly. 18+ begambleaware.org.