2 Million BC Slot
Read our review of the 2 Million BC slot game from Bestsoft to see if it has the features you like in a slot game.
Released in 2011
One of Betsoft's older releases this slot game was live in 2011. It does have some animated symbols and player interactions in the game. Read further to see what types of features you weill see in the game.
Slot Game Theme
A slot game with the name of 2 Million BC you might have already guessed the theme. Yes it takes place 2 million BC and the general theme is about the stone age and cavemen.
How will luck be and will you make your cave woman happy? See below for the tips on how to make that happen. And in case you are wondering, yes even in the stone age women wanted diamonds. Will you be able to conquer the sabertooth tiger in the jungle?
Number of Reels
The slot is a 5 reel 30 payline game. It has a standard 5×3 grid layout. The bet limits are adjustable by you. You can change the bet limits on coin sizes from $0.01 up to $1.00 size coins. In addition you can play from 1 to 5 coins per line. If you want you can also change the number of lines bet although you likely do not want to do that.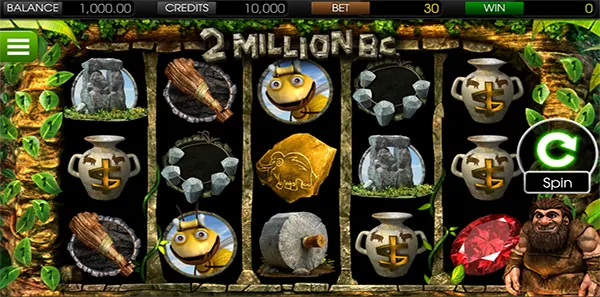 Let's Review 2 Million BS Slot Symbols
During regular game play you will see the following symbols.
Besides the caveman himself, the Cavewoman is the main character and you need to make her happy by giving her diamonds. Other symbols you will also see are the Sabertooth, the Bee, Stonehenge, a Stone Wheel. Also seen will be the Wood Wicker, Stone Circle, the Wooly Mammoth engraving on a stone tablet, a Stone Pot and a Red Ruby Stone.
Special symbols will be detailed below but expect to see a Diamond, Campfires and Acorns.
Animated Characters
One of the animated characters you will see during the game are the Caveman. He will stand in the lower right corner, except when he becomes directly involved in the action during special rounds and actions. Additionally, the Bee will make appearances for handling the Acorns for you.
Payouts for Matching Symbols
Any time you have matching symbols on a payline they will pay out according to the list below.
Cavewoman match 5 for 500, 4 for 300, 3 for 100, 2 for 30.
Sabertooth (sleeping) 5 for 400, 4 for 200, 3 for 75, 2 for 15.
Bee when matched 5 for 300, 4 for 150, 3 for 60, 2 for 10.
Stonehenge matches pay 5 for 250, 4 for 125, 3 for 50, 2 for 5.
Stone Wheel 5 for 200, 4 for 100, 3 for 40, 2 for 5.
Wood Wicker if matched 5 for 150, 4 for 90, 3 for 30, 2 for 2.
Stone Circle for matches of 5 for 125, 4 for 75, 3 for 25.
Wooly Mammoth Engraving 5 for 100, 4 for 60, 3 for 2.
Stone Pot matches ar 5 for 75, 4 for 50, 3 for 15.
Red Ruby match 5 for 50, 4 for 25, 3 for 10.
Matches are left to right only on a payline.
Free Spins and Camp Fires
You earn 4 or more free spins when you get 3 or more campfires anywhere on the game board. The bet for the free spins is based on the bet made that landed the campfires.
Yes you can gain free spins during free spin rounds.
Special Saber Attack Feature
We enjoyed this special feature call the Saber Attack feature. This is triggered by getting 3 Acorns. The acorn symbol will only be seen on Reel 5. As you get them, the bee will come out and take the acorn to the top of the slot for safe keeping until you get at least 3.
Once you have 3 the Saber Attack feature is triggered, and the caveman will move to the top of the game screen. Then the sabertooth will come out and you job is to help the caveman take aim and hit the tiger to knock him out and win instant credits.
Diamond Bonus Round
To start the diamond bonus round you will need to get 3 or more diamonds on an active payline. Once the round is triggered you will have a few choices.
During this round you will need to get a diamond from the Sabertooth, for your Cavewoman and make her happy. You will choose one of 3 ways to achieve this. Your choices are, to Sneak the diamond away, to Attack the tiger directly or to Amuse him.
We think this is the most entertaining bonus round in the game. Admittedly, the first time we played the game we chose Amuse and were clearly not expecting what happened. A stage cane out and the caveman got on stage with a microphone and told jokes to "amuse" the tiger. He must have liked the joke as we got the diamond to our cavewoman. We certainly got a good laugh from that one.
Disappointing RTP
About the only thing we were disappointed in is the average RTP. We have asked a few operators to confirm this, but the average on this game is listed at 91.94%. That is not a very high return to player but think the game is worth trying for the unique bonus round.
2 Million BC Slot Conclusion
As a conclusion to the 2 Million Slot game, this can be quite an entertaining game. The animations are not bad considering the game release date was 2011. It has some unique features and bonus rounds. Any time bonus rounds here the player is involved more than simple click to start the round is always more entertaining to us and it might be for you too. So whether you throw acorns at the tiger, or sneak up on him or tell him jokes this game is fun. Visit a casino that offer Betsoft games today to try it out.
Paradise 8

100% up to €/£/AU$/$1,000 (R10,000)
US Accepted
Mobile Available
Progressive Jackpots
Live Dealer Games
18+ Terms and Conditions Apply
See casino site for more information. Please gamble responsibly. 18+ begambleaware.org.