After Night Falls Slot
Join us with a look at the After Night Falls Slot and help solve the burglary and get the goods, and winnings.
Well Balanced Slot from Betsoft
Launching back in 2014 this slot from Betsoft actually shows the history of their ability in story telling in slot games.
Considering it is close to 10 years old at the time we reviewed it. graphics are decent and the game and characters fit the theme well.
General Game Theme
The theme of the game centers around detective Rousseau. He is tracking and trying to catch a cat burglar who only strikes After Night Falls.
Kind of tongue in cheek a bit, as you will need to help the detective solve the case. Will you catch the criminal and restore peace? Can you help Granny? Or will the criminal give you the goods?
Although not a direct take from the Pink Panther series of years ago, the detective does kind of remind you of Clouseau.
After Night Falls Slot Symbols
The symbols you will see while playing the After Night Falls slot may seem familiar.
The detective himself Detective Rousseau is one of the premium symbols. Then there is the Cat, a jewelry box, security camera, a television and necklaces.
Additional special symbols, explained below are the police case file, the criminal and then there is Granny.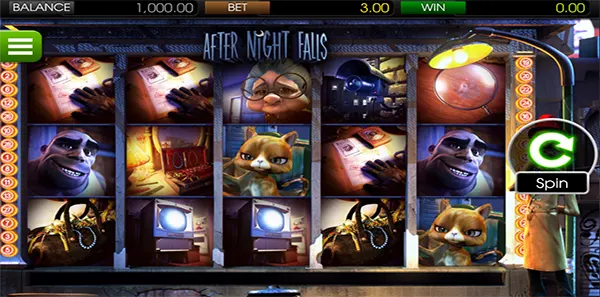 Slot Paytable
Below are the match payouts from the slot paytable: Matches are paid left to right.
Detective Rousseau when matched 5 for 25.00, 4 for 10.00, 3 for 2.50.
Cat matches of 5 for 15.00, 4 for 5.00, 3 for 2.00.
Jewelry Box matches of 5 for 10.00, 4 for 4..00, 3 for 1.50.
Security Camera if matches of 5 for 5.00, 4 for 2.50, 4 for 1.00.
Television for matches of 5 for 2.50, 4 for 1.00, 3 for 0.50.
Necklaces when matched 5 for 2.50, 4 for 1.00, 3 for 0.50.
Scatter Symbol Identified
The scatter symbol fits the theme well and is identified as a police case file. We like how fitting this symbol is to the theme. Scatter can appear on any reel.
Scatter Triggers Free Spins
Any time you get 3 or more scatters you trigger the Free Spins round. You are transported to the detective's office for the free spons. You will earn a random multiplier for the round of 2x to 10x. The multiplier will spin with you each time. Free Spins are awarded as follows:
5 scatters awards 25 free spins.
4 scatters awards 15 free spins.
3 scatters awards 10 free spins.
2 scatters awards 6.00 bonus pay.
Magnifying Glass
What detective would be without a magnifying glass? Well in this case you will be happy to see it since it is the wild symbol. Any time you land a magnifying glass it becomes a moving wild.
Not only does it act as a wild for a win, but it provides a free spin and then moves for the reel it is on to the left 1 reel. Once it reaches the left reel 1 it will disappear with one final free spin.
Magnifying Wild will substitute for all symbols except Click Me, Free Spin and Bonus Round trigger. It can not complete collapsing stacked wins.
The Criminal
Usually seeing a criminal is bad but in this game he might pay you well. Any time you get 3 or more criminal symbols it will trigger the Click Me feature. There are 4 rooms total. You will choose a door and send the criminal in to a room to steal stuff. Keep sending him in to apartments until you see the collect displayed.
Please Help Granny Bonus Round
Granny symbol can appear on reels 1, 3 and 5. Any time you get 3 Granny symbols you are tasked with helping retrieve the goods that the criminal has stolen. This begins the bonus round and you are transported to her apartment where detective Rousseau will investigate. You will select what places he will look for clues and prizes.
You will choose from the following places to look for evidence.
The Chair
Under the flowers?
Television is possible.
Possibly the clock.
Under the floor plant.
Don't forget the gramophone.
Double Up Option
The slot offers a double up option on any regular spin wins. The double up is not active during free spin or bonus rounds.
Adjustable Bet Limits
Like quite a few Betsoft slots you are able to adjust the coin size, number of coins used and the number of lines played.
Coin sizes start at $0.01 up to $1.00. You can choose to bet from 1 to 5 coins per spin. This allows from $0.30 up to $150 per spin when betting 5x $1 coins on 30 lines.
Conclusion on the Slot
To conclude we honestly have to say this slot can be fun. As we often say if you can give us a story we follow and has entertaining characters we enjoy it more. Admittedly at times we did kinda make fun of detective Rousseau and had a few laughs while doing so. No wonder Granny had her stuff stolen with detectives like Rousseau on the job, you better help her.
When we reviewed this game it was the first time we some of us had played it, and in agreement we will play it again. Visit a casino that has betsoft games to try it out.
Ripper Casino

AU$10.00 Free
Mobile Available
Progressive Jackpots
Live Dealer Games
No Deposit Bonus
18+ Terms and Conditions Apply
See casino site for more information. Please gamble responsibly. 18+ begambleaware.org.