Big Night Slot Review
Big Night Slot review investigates the various game features and what players like the most about the slot.
Slot Released from Wager Gaming Systems
WGS released this slot game in February of 2022. The game has wilds, scatters and bonus rounds with a transition or cascade style of symbols. Read the review further for an explanation of the symbols and bonus triggers.
General Game Theme
The general theme of the game follows what could be considered as a big night out for a couple. The night out is a night at an awards show, and you can help pick the winner, which can make you a winner too. The symbols and features do seem to follow the theme well.
5 Reel Video Slot
Like most video slots on the market this game has 5 reels available. There are a total of 25 paylines and adjustable bet amounts.
Game Screenshot
As most of our slot game reviews contain, we have included a screen shot of the game below.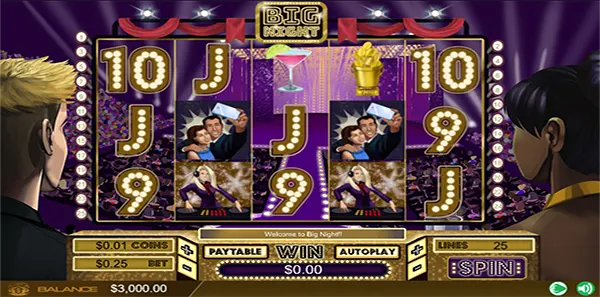 Reel Symbols Seen in the Game
Following with the theme you will be presented with the following symbols during the game. You will see:
Champagne
A Drink in a martini glass.
A couple on a night out taking a selfie.
A, K, Q, J, 10, 9
Additional bonus symbols such as Limo Wild, Female DJ Scatter and Trophy Bonus Scatter. More detail on the special symbols below.
Paytable Example
Direct from the paytable below you can see the pay out amounts for matching symbols.
Champagne Matches of 5 will pay 40, 4 will pay 12, 3 will pay 5.
Martini
Couple Matches of 5 will pay 40, 4 will pay 12, 3 will pay 5.
A for matches of 5 pay 200, 4 will pay 50 or 3 pay 25.
K Matches of 5 will pay 100, 4 will pay 40, 3 will pay 20.
Q for matches of 5 pay 90, 4 will pay 30 or 3 pay 18.
J Matches of 5 will pay 75, 4 will pay 25, 3 will pay 12.
10 for matches of 5 pay 50, 4 will pay 18 or 3 pay 9.
9 Matches of 5 will pay 40, 4 will pay 12, 3 will pay 5.
We would expect that you, like most players know matches are for like symbols when matched on a payline. Matches count left to right except scatters which count any.
Limo Wild Symbol
A bit unique to this game is the way the limo wild symbol works. The limo symbol is seen in parts and will land on reels #2 and reel #4. When you get two and they align horizontally, they will transition or expand into reel 3 also. this little animation can increase your anticipation as well as the win on the spin.
Female DJ Free Spins
The DJ will land on reels #2, #4 and #5 only. When you land 3 or more DJ symbols you win free spins round. The award is 10 free spin round is awarded.
All wins double during the free spin rounds so this can end up be considerable for you.
Bonus Round Trophy
The Trophy symbol is the scatter symbol. This will be used to trigger the bonus feature round.
The trophy symbol is only on reels #1, #2 and reel #4. Any time you land 3 trophy symbols anywhere on the game board you enter the Bonus Round.
At the beginning of the bonus round you pick one of the five actors. Which actor is going to have their Big Night? If you guess the correct actor you will get the consolation prize. This completes the bonus round. Bonus round can be triggered during a free spin round.
Method of Bet Adjustment
You can actually adjust the bet amount in a few ways, all things considered it is most often done in coin sizes. A simple click on the plus will raise the coin size, the minus lowers it. The maximum coin size at most of the casinos is $5.00. Keep in mind that is per line with a maximum bet at $5 per coin is $125 per spin.
You can lower the number of lines bet, in most cases you likely want to keep the lines maxed. To reduce the bet we suggest you lower the coin size.
Unconfirmed RTP
We have not 100% confirmed the rtp of the game but we think the source we got the figure from is accurate. We peg the game at 96.3% for the average return to player and after playing it in a few casinos that does seem accurate.
If for some reason we find that incorrect we will edit the slot review to reflect that.
Final Thoughts on the Big Night Slot review
For our final thoughts in conclusion of the review we enjoyed playing the game. Before we dug in to the features we were not sure we would like it, but we surprisingly did. In particular we enjoy games with a bonus round or feature where you pick something that affects the outcome of the spin. The bonus round where you pick the actor fills that feature request. Obviously you will not pick correct each time, but we won $50 on this feature the first time we hit it.
All things considered we do recommend you try this game when visiting a WGS casino. You can start with the casino listed below.
Ripper Casino

AU$10.00 Free
Mobile Available
Progressive Jackpots
Live Dealer Games
No Deposit Bonus
18+ Terms and Conditions Apply
See casino site for more information. Please gamble responsibly. 18+ begambleaware.org.