Klondike Gold Slot
Read this Klondike Gold slot game review for more details on the features and why some players have made it their favorite game.
Rival Gaming Video Slot
Released just after the new year of 2023 this recent game from Rival Games slots is a fun time.
Using a grid layout of 5 reels on 3 rows let's take a close look at the game. This 5 reel video slot has 1024 paylines.
Help Yukon John
Generally the theme of this game is that you need to help Yukon John fulfill his prospecting dreams of finding the gold. Among the snow covered peaks in the great north among the rivers and streams there is treasure hidden. Surely helping him find it you should also fill your chests with gold as well.
Whether helping with a pick axe, a shovel or even panning the streams there is gold to be found.
Klondike Gold Symbols and Characters
The main character in the game is none other thank Yukon John the gold prospector who is on his quest to uncover the gold deposits. While you help him on his journey other characters you will see are a lynx, falcons, foxes, elk, and even dall sheep.
Minor symbols are the card symbols A, K, J, Q, J, 10 and 9.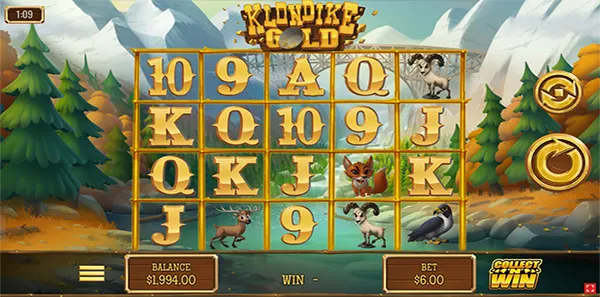 Klondike Gold Payout Schedule
We have base the below payout chart on a $0.60 bet. ($0.40 coin size x 1 coin per spin) Any time you change the bet the in game pay chart will change dynamically.
Lynx matches of 5 pay 80.00, 4 pay 60.00, 3 pay 12.00.
Falcon matches of 5 pay 60.00, 4 pay 40.00, 3 pay 10.00.
Fox matches of 5 pay 40.00, 4 pay 30.00, 3 pay 8.00.
Elk matches of 5 pay 36.00, 4 pay 20.00, 3 pay 6.00.
Dall sheep matches of 5 pay 32.00, 4 pay 16.00, 3 pay 4.80.
A matches of 5 pay 28.00, 4 pay 12.00, 3 pay 4.00.
K matches of 5 pay 24.00, 4 pay 10.00, 3 pay 3.20.
Q matches of 5 pay 22.00, 4 pay 8.00, 3 pay 2.80.
J matches of 5 pay 20.00, 4 pay 6.00, 3 pay 2.40.
10 matches of 5 pay 18.00, 4 pay 6.00, 3 pay 2.00.
9 matches of 5 pay 16.00, 4 pay 4.00, 3 pay 1.60.
Match wins are paid for consecutive matches left to right only on a payline starting with the left most reel.
Yukon John Wilds
Yukon John himself acts as your wild symbols. The wild can be a regular wild or may also appear with a 2x or 3x multiplier.
Wild substitutes for all regular symbols except the scatters or Golden Lynx.
Klondike Gold Slot Pan Scatter
The scatter symbol is the gold pan. This is what a prospector uses when panning for gold.
When you get 3 or more scatters anywhere on the game board the free spin round is triggered.
8 scatters triggers 8 free spins.
For 4 scatters you get 15 free spins.
Landing 5 scatters will trigger 20 free spins.
Collect "N" Win
During free spin rounds when collect n win is enabled there are special bonus reels in play. As you land golden lynx symbols they will be counted on the golden lynx meter. They will also change to lynx symbols for the remaining spins.
Additionally, as your golden lynx collection numbers grow you gain more wins with transitioning symbols.
Transitioning Symbols
During the collect n win rounds gaining more golden lynx symbols will transition regular symbols according to the chart below.
4 or more golden lynx collected change all Falcons to Lynx.
After 7 or more golden lynx collected change all Fox to Lynx.
For 13 or more golden lynx collected transition all Elk to Lynx.
Collect 15 or more golden lynx collected transition all Dall sheep to Lynx.
The wager amount for the collect n win round is based on the active bet that triggered the free spin rounds.
Medium Volatility Video Slot
Even with a medium volatility the rtp rating is fairly decent and lands at 95.12%.
Wager Amounts
Betting range is as follows. The minimum bet size is $0.60 up to maximum of $150.00 per spin.
The coin sizes start at a minimum of $0.40 up to a max size of $10.00. You can bet from 1 to 10 coins per spin. The bet amount utilizes a 1.5 multiplier. This means if you use a $0.40 coin value and 10 coins the total bet size is $6.00.
Klondike Gold Slot Conclusion
A bit of a light hearted theme with cute animal symbols. The Yukon John wilds with random multipliers can help with your wins. The collect "n" win feature during free spins is also nice. We did like the method of bet adjustments however we would have liked to see more coin size choices.
Decent game that you can play at many casinos as long as they offer the slot games from Rival Gaming. We have listed one of our featured Rival casinos below, or you may read some of out
Ripper Casino

AU$10.00 Free
Mobile Available
Progressive Jackpots
Live Dealer Games
No Deposit Bonus
18+ Terms and Conditions Apply
See casino site for more information. Please gamble responsibly. 18+ begambleaware.org.