Fruit Frenzy Slot Review
In the Fruit Frenzy slot review we have a humorous look at the fruit characters and the role or part they play at the circus. We also look at game features.
Launched 2011
Fruit Frenzy is a 5 reel 25 payline slot launched in 2011. You can find this game in casinos that utilize gaming software from Real Time Gaming (RTG).
The slot has an estimated average RTP of 95%.
Game Theme and Character
As we normally do we look at the theme of the slot game and how the characters fit in to the theme.
This slot centers around fruit. Each of the fruit characters are animated, and each have a role at the circus. Let's get to know them below.
To Review Symbols in Fruit Frenzy Slot
Character symbols seen in the Fruit Frenzy Slot.
The pineapple, plays the role of the circus ringleader or ringmaster, and he is the Wild. There are 2 scatters seen as Fruit and Frenzy.
Other symbols continue on with the circus theme as well as the tie in to fruits. Let's list the symbols and circus role they play:
Strawberry is a daredevil.
Orange is a clown.
Pear is a ballerina.
Banana is a dancer.
Plum represents spectators.
Watermelon is the cannon.
Clown Car in fruity colors.
Balloons seen at any circus.
Safety Goggles.
Entrance Tickets.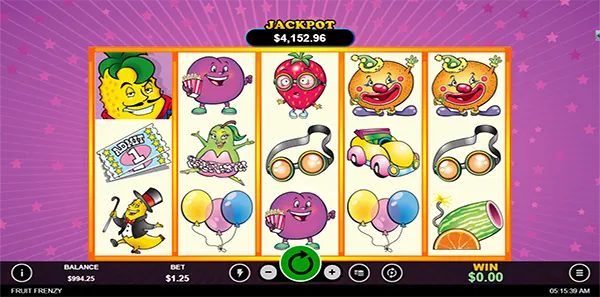 Paytable Numbers
If you are the type of player that likes to see the paytable numbers here are the match rewards for the symbols. We will go into more details about the scatters and wild later.
Pineapple match 5 for 10000, 4 for 2000, 3 for 200 or 2 for 10.
Strawberry 5 for 5000, 4 for 500, 3 for 100 or 2 for 5.
Orange if you match 5 for 2000, 4 for 250, 3 for 100 or 2 for 5.
Pear when match 5 for 1000, 4 for 100, 3 for 50 or 2 for 3.
Banana if you match 5 for 500, 4 for 50, 3 for 25 or 2 for 2.
Plum when match 5 for 250, 4 for 40, 3 for 20 or 2 for 2.
Watermelon or Clown Car match 5 for 200, 4 for 25 or 3 for 10.
Baloons, Goggles or Tickets match 5 for 100, 4 for 15 or 3 for 5.
Fruit Scatter match 5 for 200, 4 for 20, 3 for 4 or 2 for 2.
Frenzy Scatter match 5 for 100, 4 for 10, 3 for 2 or 2 for 1.
Match awards are for like symbols only. The matches are counted left to right on a payline, except scatters which pay any.
Pineapple Substitute.
The pineapple ringmaster guy is the substitute.
Pineapple symbol substitutes for any symbols on a payline except the scatters.
Daredevil Feature Game
Fruit Frenzy special bonus round known as the Daredevil Feature round.
You trigger this feature any time you land 5 of a kind on a payline.
This is an interactive feature where you get to shoot the daredevil strawberry guy through a target. (a rockmelon target) You get three attempts in each daredevil round.
You receive an award of one point for each successful shot of the strawberry guy through the target. Free games as awarded for the points, will show on the board.
During free game spins, winning prize amounts doubled and any scatter prize wins tripled. The feature can be re-triggered during the free game rounds.
Random Jackpot
The Fruit Frenzy game does have a random jackpot. Since it is random, it is possible for you to win the jackpot at random any time at the end of any spin
You will see the jackpot amount when you log in to the game any time.
Conclusion on the Fruit Frenzy Slot
To wrap up the review of the Fruit Frenzy slot we did like the game.
We feel it is a fun game and we like the theme, although the characters are a bit cartoonish. Decent enough RTP and adjustable betting limits.
If we were to change anything it would possibly be having the graphics redone with a bit more updated more modern artwork. Maybe 3D characters that follow the same role for each character.
Slots Ninja

350% 1st Deposit Slots Bonus
US Accepted
Mobile Available
Progressive Jackpots
Live Dealer Games
18+ Terms and Conditions Apply
See casino site for more information. Please gamble responsibly. 18+ begambleaware.org.