Run Rabbit Run
Run Rabbit Run is a slot game with a humorous look at what it is like to grow carrots on a farm and the animals that would be near.
5 Reel Video Slot
A 25 line video slot with 5 reels. Game is developed by Spinlogic Games. Spinlogic are normally recognized by their early development name of RTG (Real Time Gaming).
The paylines, a fixed number at 25 are active for all spins.
Theme Behind the Game
The general theme of the game is a humorous visit to a carrot farm. And obviously where there are carrots there will be rabbits wanting to sample the product frequently.
Rabbits are fun and carrots are healthy but keep an eye out for granny. Be aware that granny carries a shotgun.
Run Rabbit Run Symbols
With an extra dose of humor here are the symbols you will see in the base game. The female Mrs Rabbit is the premium regular symbol. Next is the gun-toting granny. Then there is the farm truck, a bunch of carrots and a little bird. The lineup continues with a squirrel a rabbit hiding ion a tire. Next symbols seems out of place but it is a road cone. Then a picnic basket, a flower, a log and finally a head of lettuce.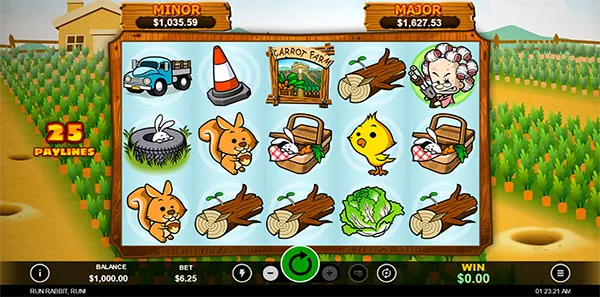 A Look at the Paytable
See the chart for the pay line amounts for matches.
Mrs Rabbit matches of 5 = 1000, 4 = 250, 3 = 100, 2 = 5.
Granny matches of 5 = 750, 4 = 150, 3 = 25, 2 = 3.
Truck matches of 5 = 600, 4 = 100, 3 = 20, 2 = 2.
Carrots matches of 5 = 500, 4 = 75, 3 = 15, 2 = 2.
Bird or squirrel matches of 5 = 250, 4 = 30, 3 = 10.
Tire or road cone matches of 5 = 150, 4 = 25, 3 = 5.
Basket or flower matches of 5 = 100, 4 = 20, 3 = 5.
Log or lettuce matches of 5 = 75, 4 = 15, 3 = 3.
Line win amounts multiply by the line bet according to the table above. Match wins must match like symbol on a payline left to right.
Mr Rabbit Wild
Mr Rabbit as a wild substitutes for all regular symbols on a payline except the carrot farm scatter. Any time the wild lands, or Mrs Rabbit appears, wilds may jump to the other spots on that reel to fill. This can increase wins at times.
Mr Rabbit Wild also has value on match wins matching with other wilds.
For 5 Mr Rabbit Wild matches pay 2500.
For 4 Mr Rabbit Wild matches pay 500.
For 3 Mr Rabbit Wild matches pay 200.
For 2 Mr Rabbit Wild matches pay 210.
Carrot Farm Scatter
The carrot farm symbol is the scatter min the game. Any time you land 3 or more scatters anywhere on the board you get the Run Rabbit Run feature.
You get 1 rabbit for each scatter you land to be used in the feature.
Run Rabbit Run Feature Game
When you start the round rabbits will attempt to cross the road to make it to the carrot farm. Each rabbit that successfully crosses the road is an increase in the number of free spins.
5 free spins awarded if 0 rabbits make it.
7 free spins awarded for 1 rabbit crossing.
10 free spins awarded for 2 rabbits crossing the road.
15 free spins awarded for 3 rabbits making it all the way.
25 free spins awarded for 4 rabbits make it across the road.
100 free spins awarded for 5 rabbits making it to the carrot farm.
A trigger of the feature will guarantee you 5 free spins, but you have the potential of many more. The more scatters landed initially, the more rabbits you have to try to cross the road. Additionally there is an instant payout of 3 or more carrot farms of 300 for 5, 20 for 4 and 2 for 3.
Special Bonus for Crossing Rabbits
As rabbits run across the road they may also pick up additional bonus carrots which increases multipliers.
The 1st Bonus Carrot increases the free games prize multiplier from 2 to 3.
2nd Bonus Carrot means all Mr and Mrs Rabbits during free games will always reveal extra wilds.
3rd Bonus Carrot awards an extra free game per scatter appearing during free games.
Special bonus carrots are available only during the Run Rabbit Run feature game. Round can be re-triggered and adds 5 additional free spins to the round.
Random Progressive Jackpots
The major or minor jackpots can trigger any time during the base game. Theses are completely at random and can trigger after any spin in the regular game.
Average Bet Range
The range of wagers per spin are from $0.25 up to a maximum of $6.25.
Return to Player %
The RTP on this game site at 96% for an average return to player over the long term
Run Rabbit Run Conclusion
A surprising very enjoyable game. Mr Rabbit sure does like Mrs Rabbit and shows up around her often. And the Run Rabbit Run feature game was very entertaining. We found ourselves cheering every time the rabbit made it across the road. Sure hope the rabbits that didn't make it were not hurt too bad.
Game is available at any online casino that has slot game supplied by RTG or SpinLogic games. See our recommendations here at Slot Machine World.
Ozwin Casino

$10 Free Test or 200% Deposit Bonus
US Accepted
Mobile Available
Progressive Jackpots
Live Dealer Games
No Deposit Bonus
18+ Terms and Conditions Apply
See casino site for more information. Please gamble responsibly. 18+ begambleaware.org.