Slot Machine Terms
A somewhat entertaining as well as informative list of Slot Machine Terms. Let's look at the terminology associated with Slots.
Online Slot Machine Terms and Terminology
Understand the terminology may help you better understand the slot games themselves.
This applies any time you play a new slot machine. Whether that be at an online casino or your favorite land based casino or resort. Often you will want to check the payout tables and betting options on that particular machine. On most slots this is usually accessed by pressing on the payout options symbol located on the video screen.
Understanding Features Help You Win
You should want to have a better understanding of how the features of a game work. This helps you know what to look for and can increase your winnings.
Does the game your playing have auto spin, or do you know which symbols trigger bonus rounds? Do you know what the RTP is on the game or maximum bet amounts?
Playing Slots are Not Difficult
Playing the slots is simple, exciting and fun.
Most slot machines are not confusing with rules to follow or hard decisions to make. You just put in your money and spin away! But there are some terms and/or slang words used when talking about our favorite one armed bandits. We think you should be armed with these definitions so you are ready to attack these bandits with everything you have! So here is a little schooling for the avid slot player. And we hope understanding these terms enhance your slot play and winning odds! Happy Gaming.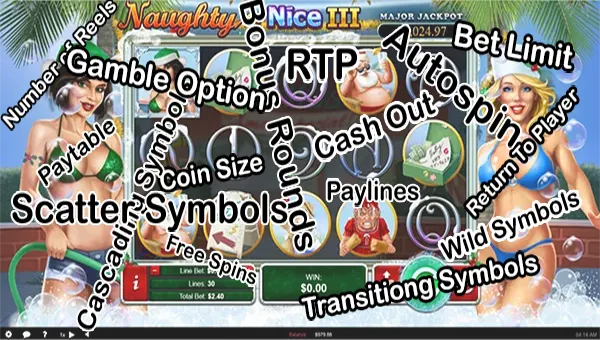 Learn the Slot Machine Terms
Below we have listed the most common and sometimes misunderstood terms related to slot machines.
One Armed Bandit A slang term used to describe a slot machine. With a name like "bandit" you wonder why so many gamblers are willing to put their money into these machines?
Pay Table This is usually on the screen of the slot machine and shows what combinations of symbols are needed to give you a pay off.
Coin Size When playing online slots you don't have to get up and walk to another area to up the ante of game play like you do in a land based casino. All you have to do is click the tab button that shows the coin amount you are betting with to up it or lower it. If it is showing a "nickel" you can click up to go to higher amounts or down to go down to a penny per bet.
Max Bet Button This is an option that can be used instead of clicking how many coins to play at one time for each and every spin you make, instead you can just click the max spin button and it will spin the reels at the highest possible bet at your coin size choice.
Fairness and Your Ability to Win
RNG This stands for "Random Number Generator" and it is used to ensure that all spins on a slot machine are random and can not be fixed or cheated. Each reel is assigned different numbers and the symbols on those reels have their own numbers and the computer picks random numbers per reel and that is what shows up when the reels stop.
RTP Return to Player. This is most often shown as a percentage and is the average percentage returned to player. The higher the number, the higher percntage chance of you winning. We do try to cover this is our game reviews.
The Mechanics or Design of the Games Themselves
Reels These are the horizontal spaces on a slot machine that holds all symbols. Each reel spins separately for each other making it impossible to cheat.
Pay Lines These are the areas on a slot screen where symbols need to land in order for you to win. Some machines have one payline and others have many. The slot machine will show you the direction each payline covers on the screen of the slot which helps the gambler to keep track of where and what they have won.
Wild Symbols These symbols are found in most multi payline games or video bonus round games and they substitute for all other symbols in the game and help gamblers make winning combination.
Scatter Symbols These symbols usually represent some type of bonus round or free spin round and when hitting the specific number of them that the machine rules call for they will trigger these bonus rounds where you can win huge amounts of money!
Additional Slot Machine Terms
Traditionally, the terms below are more common among video slots, although they may apply to classic type slot machines also.
Auto Play If your hand gets tired of clicking the spin button or maybe you are on a hot streak but need to step away from the computer for a minute, all you need to do to keep on playing even though your not sitting at the computer is pick "auto spin" and set it to the number of spins you wish to have the computer spin for you and click spin. You can watch the spins and wins without lifting a finger.
Cash Out Button This is what you click when you have won some money and wish to leave that slot machine. Once you click this button the money you have won will be put into your balance and you can leave the machine. Most of the RTG games have this button.
Terminology of Slots and Slot Machines
Hopefully we were able to help you better understand the terminology of slots and slot machines in general.
If you still are not clear on some of the terms, you can play most casinos online free once you create an account. Visit one of the casinos listed below or read some of our reviews here at Slot Machine World for trusted place to play slots.
Casino Action

Up to $1260 Bonus see site for details*
Mobile Available
Progressive Jackpots
Live Dealer Games
18+ Terms and Conditions Apply
See casino site for more information. Please gamble responsibly. 18+ begambleaware.org.