Shopping Spree Slot Review
An investigative closer look at the Shopping Spree Slot Review. A brief look at it's history and evolving in to the progressive it is today.
Version II Released
Initially Shopping Spree slot was released back in 2009.
Over the years it has had a few updates regarding cleaner crisper artwork and updated interface. The Version 2 or Shopping Spree II is the version you will see in RTG casinos today.
This slot carries an official release date of mid March 2021 although the game theme
Video Slot Reels
The basics of this game is that it is a 5 reel video slot with progressive. It has a total of 9 paylines fixed that is not adjustable.
General Theme
Theme and idea surrounding this game is shopping. Based on the symbols one can assume the shopping is not at a discount store but more of a high end designer store.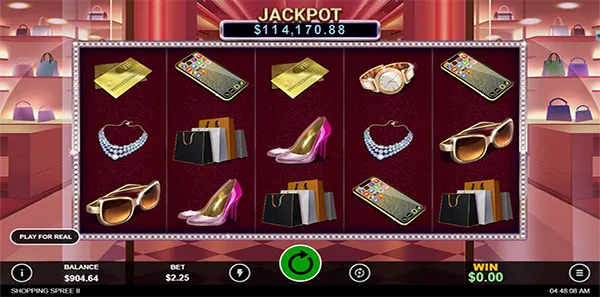 Shopping Spree Symbols
Many of the symbols seen are quite logical when consider a shopping spree in a designer store.
You will see a man's diamond ring, woman shopper, diamond studded $ money clip, designer purse, high heels, glasses, diamond necklace, gold watch, cell phone, shopping packages and a vip gold credit card.
Review the Shopping Spree Slot Payouts
Below is the breakdown of the payouts for matching slot symbols on the Shopping Spree game.
Diamond Ring for matches of 5 for 5000, 4 for 1000, 3 for 100, 3 for 10, 2 for 2.
Woman Shopper when you match 5 for 2500, 4 for 250, 3 for 25, 2 for 3.
Money Clip if you match 5 for 1000, 4 for 100, 3 for 15.
Designer Purse for matches of 5 for 500, 4 for 75, 3 for 10, 2 for 2.
High Heels or Glasses when matched 5 pay 250, 4 for 40, 3 for 5.
Diamond Necklace or the Watch matches are at 5 for 200, 4 for 30, 3 for 5.
Cellphone, the Packages or Credit Card match rates are 5 for 125, 4 for 25, 3 for 5.
When matches occur on a payline with the use of the wild, your win will be considerably more.
Store Sale Sign is the Wild
The sale sign will appear grouped on reel 3.
It is considered a wild and will substitute for all regular symbols except the scatter. Any payline wins using the wild will be multiplied by 2, 3 5, 10 or 20. The wild symbol with transform in to the multiplier amount on the winning payline.
Shopping Spree II Logo Scatter
The Shopping Spree sign or logo is considered the scatter.
Scatter symbols pay no matter where they land on the board.
Scatter and Free Games
You will get 9 free games when you land 3 or more scatters on any spin. This is also known as the Shopping Spree Round.
During this round you may also see 100, 200, 300, 400 and 500 point symbols on reels 1 through 5 respectively. These points accumulate in the bonus total.
Scatter symbols do not appear during the "shopping spree" round. At the end of the Shopping Spree round you will win free games.
Free Games Based on Bonus Points
The number of free games you get is based on the number of bonus points you acquired during the bonus round. You gain 3 free games for each 1000 bonus points you got during the round. There is a maximum of 12 free games you can win.
During the free game spins reel 3 will only contain "sale" substitute symbols.
Consolation Prize for Poor Bonus Point Totals
In the event you did not earn 1000 bonus points or more during the round you get a consolation prize. Consolation Prize amounts count according to the following schedule:
Bonus total of 500 to 900 3X bet is award amount.
If your bonus total was 400 award is 5X bet.
When you bonus total amounts to 300 you are given 10x bet.
For a bonus total of 200 you earn 20x your bet.
If your bonus totals happened to be 100 you get 40x your bet.
And if your bonus total was zero you are given a huge 100x your bet.
Shopping Spree II Progressive
This slot has an RTG Network Progressive jackpot that is very often rather large.
We have seen cases where this jackpot was well over 200,000 or 300,000 dollars. In fact the day we did the screen shot for the review it was over $110.000. That is one of those truly life altering amounts.
Methods of Winning Progressive
The method to win the big progressive is as follows.
Progressive is won when you get 5 Diamond Rings on a payline, with a 20X Sale substitute.
Our Final word
We are no stranger to this game and have played it quite a few times over the years. Admittedly we do like the version II much better.
Bonus rounds were quite fun and the extra bonus tally adding up did add to the excitement. We did not win that 100 grand progressive but plan to visit to try again soon.
It's easy to see why this slot is on a lot of players lists to give a spin or two often.
Slots Ninja

350% 1st Deposit Slots Bonus
US Accepted
Mobile Available
Progressive Jackpots
Live Dealer Games
18+ Terms and Conditions Apply
See casino site for more information. Please gamble responsibly. 18+ begambleaware.org.