Naughty Ninjas Slot Review
An investigative look at the Naughty Ninjas slot review. Read about the features and entertainment value of the game.
Released by WGS in 2021
Initially released in 2008 when the developer company was still Vegas Technology and released in November 2021 under the WGS label. To read more about the history of WGS and the Vegas Tech connection see the wgs software review.
In addition to revamping the game graphics, the new version of Naughty Ninjas improved on the game play and features as well as the animations of the symbols.
General Ninja Theme
The slot game follows a general ninja theme with the characters having an anime look to them.
Explanation of Game Symbols
During investigation of the game symbols the best way to illustrate the symbols is to state what they wear and whether male or female. We have not found more descriptive names of the characters, if we discover them later we will update the review. Each character is a ninja or follows the ninja theme with an somewhat anime feel to them.
Game Symbols Seen
The highest paying symbol is the bearded ninja master and he is also the wild. Other symbols will be the male ninja wearing red, female blue haired ninja in black. Also a female ninja in red, and a ninja in a mask. Finally symbols of A, K, Q, J and a 10.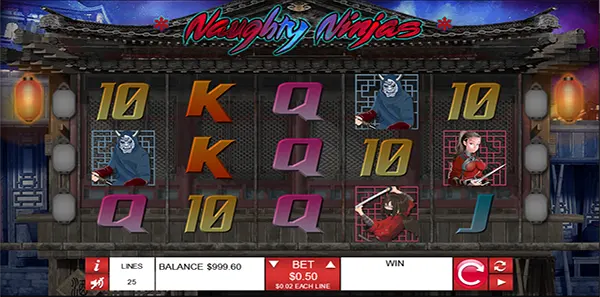 Pay Table Amounts
Direct from the pay table the following amounts are the match wins for matching symbols on paylines.
Ninja Wild for matches f 5 is 5000, 4 for 1000, or 3 for 150.
Male ninja in red for 5 is 1000, 4 for 500, or 3 for 50.
Blue hair ninja match 5 for 500, 4 for 200, or 4 for 25.
Female ninja in red or the ninja in the mask 5 for 200, 4 for 50, or 3 for 20.
A, K matches of 5 for 150, 4 for 25, or 3 for 10.
Q, J 5 for 125, 5 for 20, or 3 for 5.
10 5matches of 5 for 100, 4 for 10, or 3 for 5.
Ninja Wild and Benefits
The ninja wild substitutes for all regular symbols on a payline. It does not substitute for the ninja star or the scatters.
Super Scatter Symbol
Super scatter is easily identified as it is bright yellow and says super scatter. The scatter appears on reels #1. #2, #4 and #5.
Any time you get 3 or more scatters you increase your wins on that spin. Landing 3 is a payout of 1X, 4 is 5X, 5 os 10X, 6 is 50X, 7 is 100x and 8 is a huge 1000X. The scatter payout is based on the amount bet on that spin.
Ninja Star
The Naughty Ninjas slot has a special symbol of the ninja star. Ninja star can appear anywhere on reel 3 and will pay an amount equal to the spin bet. In addition it triggers a respin.
The star then cascades and fills reel #3 and the remaining reels will spin again. During the re-spin all prizes are doubled. The ninja star respin is a one time featured until you land the stars again in future spins.
Bet Amounts
Adjusting the amount of your bets per line does help fit a players budget no matter where that sits. You can bet as low as a penny ($0.01) up to a maximum of $10.00 per line. This makes the slot great for a low roller or occasional player and at $250.00 per spin high rollers often enjoy this game also.
Naughty Ninjas Slot Review RTP
We discovered the the average return to player (RTP) for this slot game sits at 96%.
Conclusion to the Naughty Ninjas slot review.
To conclude we really do like the new release of this slot game. We recall playing this often years ago and the new version is certainly better. During our review sessions we found that the ninja star bonus came up a decent amount of times. And the super scatters can sure help the win amounts too.
Naughty Ninjas slot is a good game with decent return either as a favorite on a game you play once on a while. To find this game just visit an online casino that has games from WGS (Wager Gaming Systems).
Red Stag

275% 1st deposit and 100 Free Spins
US Accepted
Mobile Available
Progressive Jackpots
Live Dealer Games
18+ Terms and Conditions Apply
See casino site for more information. Please gamble responsibly. 18+ begambleaware.org.