Mythic Wolf Sacred Moon
A thorough review of the Mythic Wolf Sacred Moon slot and its features. Recently developed by rival gaming available at rival casinos.
Rival Gaming Released this game in 2022
A premium release from Rival Gaming in early 2022 the Mythic Wold Sacred Moon slot. The game has been very well received by players because they love the features.
Game has many features players enjoy like up to 720 ways to win, bonus rounds and free spins with multipliers.
Theme and Background
General theme as well as the background of the game is beautiful. A dark sky with the Aurora Borealis (Northern Lights) in the sky. And there is a beautiful full moon high in the sly where the mythical wolf pack gathers in the arctic. You can even hear the howl of the magnificent wolf to set the scene.
Game and Reel Layout
Game is a 5 reel video slot but it is not your standard 5 x 3 grid type. The layout is in a 3x4x5x4x3 set of reels. In other words reel #1 is 3 rows, #2 is 4 and #5 is 5 rows #4 and #5 are 4 and 3 respectively. See the screenshot below if you have never played a slot with such a layout.
Although there is 720 ways for line wins the bets are a fixed 25 lines.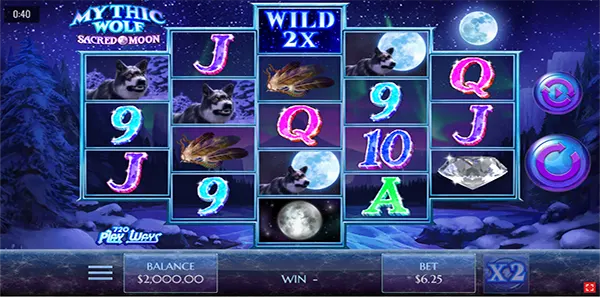 Thorough Look at the Game Symbols
Each of the animal game symbols are majestic creatures and the other main symbols fit the theme well. First we start with a bald eagle, and then the image of the Sacred Moon. There is also a diamond, a running wolf, a wolf with a snow covered mountain in the background and a howling wold in the moonlight. To round out the list of regular symbols are the A, K, Q, J, 10 and 9.
A number of these symbols animate a little after landing in a winning payline. Not a huge thing but does add a little to some of the symbols.
Pay Table Match Win Amounts
Direct from the in game Mythic Wolf Sacred Moon pay table lets look at the win values of matching symbols.
For bald eagle matches of 5 for 600, 4 for 200, 3 for 50.
With sacred moon matches of 5 for 500, 4 for 150, 3 for 40.
Diamond matches of 5 for 400, 4 for 100, 3 for 30.
Running Wold matches of 5 for 300, 4 for 70, 3 for 25.
Wolf by mountain matches of 5 for 250, 4 for 60, 3 for 20.
For the wolf under moon matches of 5 for 200, 4 for 50, 3 for 15.
A matches of 5 for 80, 4 for 30, 3 for 10.
K matches of 5 for 60, 4 for 20, 3 for 7.
Q matches of 5 for 40, 4 for 15, 3 for 6.
J matches of 5 for 35, 4 for 10, 3 for 5.
10 matches of 5 for 25, 4 for 7, 3 for 3.
9 matches of 5 for 25. 4 for 5, 3 for 2.
Not only are matches paid left to right, but also right to left. Match wins are paid only on paylines and only in one direction. All wins are multiplied by the coins staked per line except for scatters.
Wild 2X Symbol
The wild symbol is easy for you to distinguish. It is seen as a 2x and the wild will substitute for all regular symbols in the game except the scatters.
The wild can be seen on any reel and it can be stacked up to 5 icons high on center reel.
Feathers
The scatter symbol is seen as feathers, We think these are actually eagle feathers as the eagle is known as one of the most respected in many cultures.
Any you land 3 or more scatters you will win free spins. They do not need to land on paylines and pay the spins when they land anywhere on the board. Landing 3 gets you 8 free spins, 4 will get you 12 and 5 will get you 20 free spins.
Special Bonus Round
Dream Catcher symbols represent the special bonus round symbol. The method to get the special round is landing 3 dream catchers.. When this round starts you will spin the special dream catcher wheel for bonus coins. There are 2 rings on the wheel and each will pay a bonus. You spin the rings twice and the bonus is totaled after the second spin. This completes the round.
To clarify the dream catcher bonus round can be won during free spins.
Double Up Feature
Additionally, any win during regular game play can be doubled during the double up feature. Many list this as a gamble feature since your gamble is a double or nothing with a 50% chance of success. Unlike many types of gamble choices, you can actually bet all or half your winnings multiple times. Feature is limited to game limits.
To take advantage of the double up feature, just click the X2 button seen beside the bet amount. You will then choose a coin heads or tails after your bet choice.
Without doubt, this one feature alone can be huge wins for you, bet wisely.
Complete Choice in Betting Adjustments
You can choose to adjust your bets in a few ways. Changing the coin size between spins at any time is supported. Coin sizes range from $0.25 up to $6.25.
Moreover, you can also change the number of coins bet on each spin from 1 to 10 coins.
Low Volatility
The Mythic Wolf slot is a low volatility game with an rtp that sits at 94.91. Not too bad for a slot with up to 720 ways to win.
Verdict on the Mythic Wolf Sacred Moon
We are starting to become bigger fans of the 5 reel slots with the expanded grid and more ways to win. The 3x4x5x4x3x is the most common grid in these types of games and allows for much more expanded pay line possibilities.
With a low volatility and an rtp well within a range we like to see we enjoyed this game quite a bit. The double up gamble feature can be quite rewarding, but be careful as you can lose a large win on a 50 50 gamble if you pick wrong.
As for rival slots, we think the story line could have been more intriguing some how, but we were impressed with the return on the game and will play it again in the future. You can play this game too just visit an online casino that has Rival slots.
Slots Palace

100% up to €500 / 750 CAD
Mobile Available
Progressive Jackpots
Live Dealer Games
18+ Terms and Conditions Apply
See casino site for more information. Please gamble responsibly. 18+ begambleaware.org.