Online Slots Are Better
Slot machines have been around a very long time but this article will help you see why online slots are better then those in other casinos.
Why Online Slots Are Better than Land-Based Slots
Online slot games offer several advantages over land-based casinos. This has helped to make the online casinos popular with both those who also like slots in land-based casinos as well as those who don't like to play in that environment. This article will try to detail more of the specifics of why online slots are considered better than land-based slot games by many players.
Online Slots are Much More Convenient
One of the most significant advantages online casinos offer over land-based casinos is convenience. Unless you happen to live near a casino, going to a land-based casino can involve taking time off work, making travel plans, staying in a hotel, renting a car, etc. When you play online slots, you can play at any time of the day or night and from any location with a connection. You don't even have to get out of your pajamas, or your bed, for that matter.
Online Slots Cost Less Money to Play
As stated above, you may need to go out of town to play the slots at a land-based casino. This means you'll incur charges like flights, the hotel, dining, car rental, and more. Even if you live near a land-based casino, you can still end up spending more on gas, and you may need to pay for a babysitter for the kids.
When you play the online slots, your only expenses will be the money you play with and the cost of having Internet, which you'd have anyway.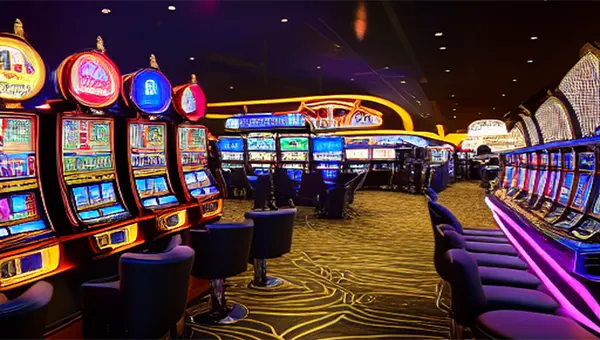 There Are Free-play Mode Online Slots
When you play the slots games in a land-based casino, it will cost you money to get a real feel for the game. However, when you play at an online casino, as an account holder, you can enjoy free-play mode games. This allows you to try out new games without investing any money until you know you like them. Also, the free play slots can come in handy for times when you don't have as much in your player account but still want to play.
Offering Higher Payout Rates
Another reason online slots are often preferred and how they have a big advantage are the payout rates. Most slots in online casinos tend to have higher payout rates then their land-based counterparts.
This means that, on average, players have a better chance of winning when playing online. One of the reasons for this is that online casinos don't have nearly the same amount of overhead as land-based casinos, so they can pass some of that savings on in the form of better payout percentages.
There Aren't Any Crowds to Deal With
Some people suffer from social anxiety, and this makes it difficult for them to do things like spend time in busy casinos. Even people without social anxiety will have times when they just don't feel like dealing with being around so many people. Online casinos allow you to log on and play the slots games you want without dealing with crowds.
Conclusion
These are just some of the reasons why playing slots online is more fun and more rewarding for many people. Take a look through some of our casino and game reviews and you can find yourself enjoying the games online and saving the trip to the casino.
Davincis Gold

300& Crypto Bonus
US Accepted
Mobile Available
Progressive Jackpots
Live Dealer Games
18+ Terms and Conditions Apply
See casino site for more information. Please gamble responsibly. 18+ begambleaware.org.