Zombie Invasion Slot
If you like zombies and apocalyptic stories you will love the Zombie Invasion slot from Dragon Gaming. Kill zombies and help the city survive.
Dragon Gaming Slot Helps Stop the Apocalypse
We have played a number of different slot games from Dragon. They have been fairly innovative and have stayed on a release schedule showing their willingness to move up the ranks in availability numbers. More importantly, they have been releasing games players like to play and Zombie Invasion is a good example of that.
Zombie Invasion Slot and the Apocalypse
We have seen slot games follow this theme before, but this release from Dragon Gaming does a good job both in story line and features to save the city. Part of your task will be to make good choices and with a bit of luck land the right symbols to help the people survive and increase your game balance.
Read the review as we explain how you can help everyday citizens to escape the city and gain some wins along the journey.
Apocalyptic Viruses and Scenarios Change People
Hard to tell exactly how many people would react to a type of virus that would turn people into zombies, but recent events show in some cases people change for the better. Other instances at times have shown that some people do not handle such a thing well.
We like to think that everyday people can become hero's and help others, to safety and more slot winnings, let's see how.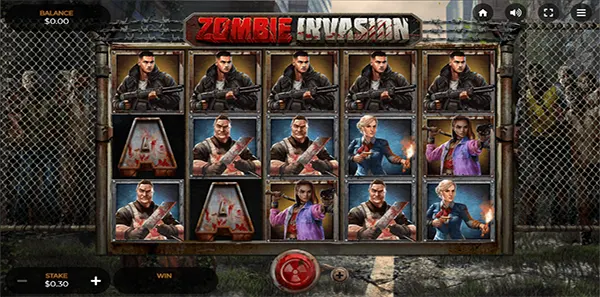 Grid Layout of Video Slot
This is a 5 reel video slot and commonly has a grid style layout, 5 reels and 3 rows game board. A total of 30 paylines exist, fixed. When a slot review states "fixed paylines" this commonly refers to a game where your bet always includes the total number of lines and is not adjustable.
While some players do like to adjust the lines, we rarely do, so this feature is something we rarely look at too closely.
Game Symbols and Characters
There are six main human characters in the game and are as follows. A young man with a shotgun as the premium symbol. Then there is a female possibly in a business attire, let's call her the office worker. A girl armed with a sword and a pistol, and a guy wearing a tie. There is also a blonde woman and finally a guy with a big bloody meat cleaver. For the card symbols are an A, K, Q and J. Each of the card symbols are already splattered in blood as well. Each person is armed fully, when there are zombies around, you need to stay armed.
Paytable for Matching Symbols
The payouts from the pay table win will multiply the line bet. Payouts are based on exact symbol matches, on a pay line for matches left to right. Match win according to the following:
Young man when matched 5 for 500X, 4 for 200X, 3 for 50X, 2 for 10X.
Office worker or young girl matches of 5 for 375X, 4 for 150X, 3 for 25X.
Young man, blonde or meat cleaver guy matched 5 for 250X, 4 for 50X, 3 for 15X.
A. K, Q, j matches of 5 for 100X, 4 for 25X, 3 for 5X.
Random Wild Symbol
The random wild symbol can appear on any reel. It substitutes for all regular symbols except the scatter or special zombie symbols.
Biohazard Scatter Symbol
Scatter symbol is depicted by a Biohazard symbol. When you get 3 or more scatters on the board you will be rewarded with free spins. The spins will include random wilds.
You can win up to 20 free spins and they are awarded as follows. # scatters is 10 spins, 4 scatters is 15 and for 5 scatters you win 20 free spins. During free spin rounds random wilds in the form of a smoke bomb may appear and are possible 1 each on any reel. It s possible to re-trigger the free spins during the round.
Bonus Symbols are Zombies
There are 3 different bonus zombie symbols. They are expanding symbols. You will only see them on reels #1, #3 and #5. They are:
Policeman Zombie
Waitress Zombie
Runner Zombie
When you land 3 bonus zombies, they expand and you start the Escape Infected City Game.
Escape Infected City Game Explanation
This bonus game has up to 5 levels. During each level you will select a door to escape. You start at the bottom and work your way up through the levels. If you select the right door, you will kill a zombie and gain the win. Your reward is a multiplier. When you pick the wrong door a zombie kills you and ends the round. Don't worry though, you will keep the previous prize won and it will be collected at that time.
If you manage to make it to the 5th level, the multiplier can be as high as 1000 times the bet.
Additional Gamble Option
At the conclusion of a win on a regular spin you also have the option to gamble the win, at a minimum of double or nothing. You click the gamble and get to choose either to pick a suit color red or black for a possible double of the win 2X. Or you might choose to select the suit itself clubs, hearts, diamond or spades for a possible 4X thee win. An incorrect guess and you lose the win. Not a bad way to double or 3X a win.
$0.01 up to $3.00 Coin Sizes
Adjustable coin sizes are from 1 penny up to $3. This allows up to $90 per spin on 30 fixed lines.
Reasonable RTP
Average rtp of the game for long term play sits at 94%.
Zombie Invasion Slot Conclusion
We like the theme of the game and story behind it. Admittedly though we are fans of the zombie genre as well as many of the movies and shows even going back to the ones from the 60's.
As for the game features we really enjoy the bonus round for escaping the city, and it is thrilling to wonder if you will kill the zombie or pick wrong and they will kill you when the door opens. We found that the free spins and bonus rounds triggered a reasonable amount of times and kept up interested in the game. Only thing we would change is a bit more spin action, but it may have been a slow internet connection the evening we did the reviews.
Slot with a good rtp and if you like killing zombies for fun and prizes you should try out the game.
Slots Capital

Deposit $25 and get $100
US Accepted
Mobile Available
Progressive Jackpots
Live Dealer Games
18+ Terms and Conditions Apply
See casino site for more information. Please gamble responsibly. 18+ begambleaware.org.