Gold Bricks Slot
Read the Gold Bricks slot review to see why it is one of the most popular classic slots from Rival Gaming.
Released in 2017 by Rival Gaming
After speaking with a few Rival casino operators a few of listed this slot as one of their most popular in their classic line. This certainly helps answer the question whether players still like to play the classics and shows that Rival games are still well liked after many years on the market.
Classic Slot Theme
The theme of the game is fairly standard as far as a classic slot goes. A 3 reel game with a standard 3×3 grid layout.
Gold Bricks Slot Classic Symbols
It should be no surprise that a classic slot game would also have classic style symbols. You can expect to see sevens (7's) in various colors as well as a collect of bars. As expected the bars can be 1 bar, 2 bars or 3 bars. Of course you would expect to see fruit such as cherries, watermelon and a plum. The wild symbol is a stack of gold bars, and at times they can stack and entire reel.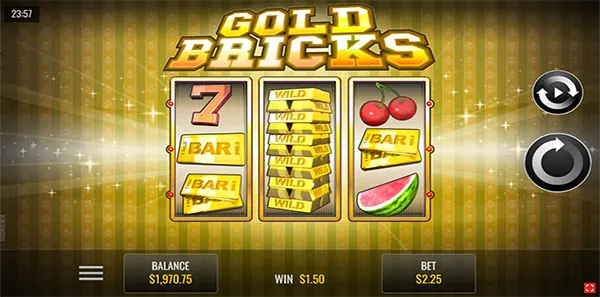 Payout Chart
Below you can see the payout chart based on the actual symbols from the game. We have provided the breakdown based upon how many coins you bet per line. As you can see, when you bet more coins per line the payout increases your reward.
3 coins is 1200, 2 coins 800, 1 coin 400.
3 coins is 150, 2 coins 100, 1 coin 50.
3 coins is 120, 2 coins 80, 1 coin 40.
3 coins is 90, 2 coins 60, 1 coin 30.
3 coins is 60, 2 coins 40, 1 coin 20.
3 coins is 45, 2 coins 30, 1 coin 15.
3 coins is 30, 2 coins 20, 1 coin 10.
3 coins is 27, 2 coins 18, 1 coin 9.
3 coins is 24, 2 coins 16, 1 coin 8.
3 coins is 18, 2 coins 12, 1 coin 6.
Any 3 Payout
There is also a payout for any 3 7's or any 3 bars on a payline.
3 coins is 12, 2 coins 18, 1 coin 4.
3 coins is 6, 2 coins 4, 1 coin 2.
All payouts listed are like symbols on a payline, with the exception of the any 3 matches.
Wagering Amounts Per Spin
Even as a classic slot you have a number of options presents for wager amounts. You can choose coin sizes as low as a penny $0.01. The maximum coin size is up to $5.00 per coin. You can also change the number of coins per wager. This allows you to wager 1, 2 or 3 coins per spin. Lines can also be changed from 1, 2 or wager all 3 lines each spin.
This allows wager sizes $0.03 up to $45.00 Per Spin when betting all 3 lines.
Slot Return to Player
The return to player on this slot game is listed at 94.51%. Reasonable for a classic style slot.
To Conclude Gold Bricks Slot Review
We admit we are not really huge fans of classic style and 3 reel slot games. This one was ok, and the wild showing up did help our winnings and helped us to enjoy the game. If you are a classic slot lover this game has plenty to offer in symbol variety wilds occurrence and rtp. As we said earlier, clearly players that like 3 reel slots like this based upon in casino game popularity rating.
You can find this slot at any Rival casino.
High Roller

400% up to $4000 on Slots
US Accepted
Mobile Available
Progressive Jackpots
Live Dealer Games
18+ Terms and Conditions Apply
See casino site for more information. Please gamble responsibly. 18+ begambleaware.org.