Candy Factory
Direct from Dragon Gaming the Candy Factory slot matches cascading colorful candy symbols and exploding blocks game for fun and wins.
5 Reel Video Slot with 7 Rows
Instead of the standard 5 row and 3 reel common video slot this game has 7 rows of fun. Like similar games from other providers this is an exploding symbol game. That means that matching symbols will explode and symbols or rows above the removed blocks cascade into their place.
Candy Factory Theme
To fit within the theme of the game the common symbols seen appear as pieces of candy. Additionally the dark stone blocks in the lower portion fo the board at the bginning of spins are chocolate pieces that can also clear for more cascading candy.
Identifying the Candy
Candy Factory has 6 regular symbols seen in the game. There are 2 each low, mid and high value. The symbols appear as pieces of candy. These include orange candy, purple, yellow, blue, green and red.
There are a few other symbols seen, such as wilds and exploding fireworks that help with wins and clearing blocks/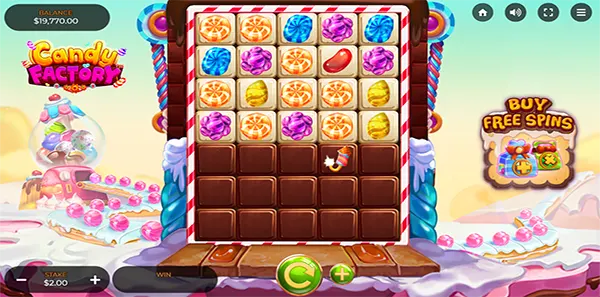 Paytable
As you match candy symbols during the base game they will highlight and explode away. Reels will then cascade down to fill in the spots of removed symbols possibly for more wins. Match amounts are as follows:
Orange matches of 7 pay 15, 6 pay 4, 5 pay 2.5, 4 pay 0.5 and 3 pay 0.25.
Purple matches of 7 pay 10, 6 pay 3.5, 5 pay 2, 4 pay 0.4 and 3 pay 0.2.
Yellow matches of 7 pay 7, 6 pay 3, 5 pay 1.2, 4 pay 0.3 and 3 pay 0.15.
Blue matches of 7 pay 6, 6 pay 2.5, 5 pay 1.2, 4 pay 0.25 and 3 pay 0.1.
Green matches of 7 pay 5, 6 pay 2, 5 pay 0.7, 4 pay 0.2 and 3 pay 0.05.
Red matches of 7 pay 4, 6 pay 1.5, 5 pay 0.7, 4 pay 0.2 and 3 pay 0.05.
Payouts listed are a multiplier of the coin value.
Horizontal and Vertical Matches
Additionally instead of the plain left to right only matches for wins, vertical counts also. A win is 3 or more symbol matches horizontally or 3 or more matched vertically.
Candy Factory Wild
Obviously the wild is a piece of candy also and the only one in a triangular for, Wild substitutes for any regular candy symbols helping you match more. In many case wilds will be seen in a stack. When wilds are used for a match win, they will not explode and will continue to move down with other cascades. This may help additional match wins before the next spin.
Free Spin Trigger
During the base game as blocks are removed and more cascades take place the dark stone or chocolate blocks are removed. Any time you clear all the dark blocks in the lower portion of the board you trigger free spins.
During free spins rounds some dark blocks are special symbols and may contain extra spins or added multipliers.
Free Spins Modes
There are a total of 3 possible free spins modes.
Multiplier
Special stone block contains 1x, 2x or 3x multipliers. This mode is 6 free spins.
Multiplier and Extra Spins
Dark blocks in this mode contain added multiplier or extra spins. This mode is 8 free spins.
Extra Spins
Special dark blocks on this mode may contain 1, 2, 3, 5 or 10 extra spins. This mode is 12 free spins.
Additional Free Spins Discussions
During any of the free spins modes clearing the third row of dark blocks pays +2 free spins. Destroyed special blocks add to the multiplier or number of free spins left depending on the mode.
During the free spins special exploding blocks are not reset and the grid continues to cascade down.
Gamble Up Option
For players that like to take the extra double or nothing gamble option in wins you can on this slot. After regular line wins if you choose just select the Gamble icon on the game board after a win.
You will be presented with the dragon slot gamble option allowing you to choose a 2x or nothing or a 4x or nothing gamble. In the double or nothing option you will pick whether the next card dealt will be red or black. It's that simple, of you pick right your win is doubled, guess wrong you lose the win and return to the game. For the quadruple or nothing gamble. you pick what suit you think the next card will be.
In any correct choices,you will have the option to gamble the win even further. You can gamble a total of 5 time with correct choices, ad you can collect the win at any time before the next choice.
RTP Unverified
We have actually seen this game listed with 2 distinct rtp values so we are attempting to verify it.
The press release for the game list6ed it as 96% but the in game paytablle rules state it is in fact 94.68%. We are listing it that way since that may well be the % after final testing from Dragon Gaming.
Range of Bets
Slot allows for bet range from $1.00 up to $100.00 per spin.
Conclusion Wrap up
We admit to being much more of a fan of the more traditional 5 reel slot with a good storyline but we enjoyed this game a bit. The free spins round was pretty fun and very rewarding. We really like the gamble option and used it a few times to double our wins. Those times we gambled and chose wrong, well it was our choice.
This game provides a lot of active features and the exploding blocks does add to the thrill of the win. You can try this game at any casino with Dragon games.
Miami Club

100% up to $100 on Slots
US Accepted
Mobile Available
Progressive Jackpots
18+ Terms and Conditions Apply
See casino site for more information. Please gamble responsibly. 18+ begambleaware.org.