Mr Vegas Slot
The first iteration of Mr Vegas slot from Betsoft lays the groundwork for a continuing series of video slots with unique features and mini games.
Mr Vegas Slot a Betsoft Original
Initially launched in 2012 this game combines unique features in bonus rounds with old school Vegas type games. A video slot with 5 reels and 30 paylines. The paylines are not fixed and can be adjusted from 1 to 30.
Las Vegas Casino Theme
Following the theme of Las Vegas itself this slot has a charm all it's own. Read our review of this game to see how the flair of old school Las Vegas games fit in to the bonus mini-games. During certain bonus rounds you physically play a game within a game for extra bonus credits.
Introduction to Game Symbols
Let's look at the game symbols you will see in the game. Starting with the premium regular symbol is a female fan dancer wearing the customary headdress of the L:as Vegas showgirls. Next we have a blonde girl, then a brunette and then a pitboss or croupier. Remaining symbols are a happy player, Vegas welcome sign, roulette wheel, champagne, a stack of chips and finally blackjack cards.
Additional bonus round symbols will be detailed later on the review.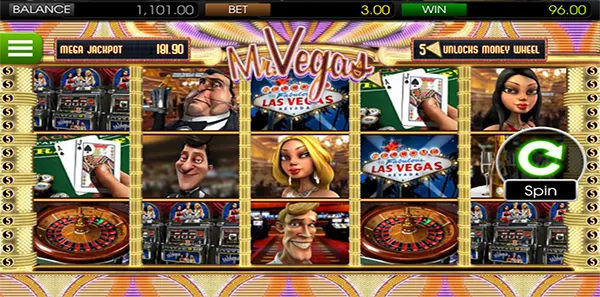 Mr Vegas Slot Payouts
In order for us to illustrate the pay table we will use a per spin value of $3.00. To clarify, this is set as bet level 5 on all 30 lines at a total per spin wager of $3.00. You may see the match win values any time by changing the bet and viewing the table between spins.
Showgirl matches of 5 pay 50.00, 4 pay 30.00, 3 pay 10.00, 2 pay 1.00.
Blonde or Brunette matches of 5 pay 30.00, 4 pay 18.00, 3 pay 6.00, 2 pay 0.50.
Pitboss matches of 5 pay 25.00, 4 pay 15.00, 3 pay 5.00.
Male player matches of 5 pay 20.00, 4 pay 12.00, 3 pay 4.00.
Vegas sign matches of 5 pay 15.00, 4 pay 9.00, 3 pay 3.00.
Roulette wheel matches of 5 pay 12.50, 4 pay 7.50, 3 pay 2.50.
Champagne matches of 5 pay 10.00, 4 pay 6.00, 3 pay 2.00.
Chips matches of 5 pay 7.50, 4 pay 4.50, 3 pay 1.50.
Blackjack matches of 5 pay 5.00, 4 pay 3.00, 3 pay 1.00.
Line wins are multiplied by your chosen bet level. Payouts are from left to right only on matching symbols on a payline.
Feature Games and Bonus Rounds
This game has a few additional feature games and bonus rounds as shown below.
Mr Vegas Slot and Dice Round
Any time you get Mr Vegas symbol with the dice on the left or right of him on payline #1, #2 or #3 you trigger the round. The value of the dice determines the number of free spins.
If you happen to roll doubles all wins during the free spins round are also doubled. You gain the free spins again by hitting the combination during the round.
Mini Slot Game Round
Additionally another way to win free sons is landing the classic slot machine symbols. 3 or more of these symbols anywhere on the game board triggers free spins.
For this round a miniature slot machine will appear in the center of the board and your free spins will be on that classic slot.
Mr Vegas Slot Bonus Round
Any time you land Mr Vegas himself on reels #1, #3 and #5 you trigger a very special roulette bonus round.
For this round you will play roulette with Mr Vegas and a few of his starlets with a possible big win.
Money Wheel Special Game
During the course of the base game you will see slabs as part of the bonus money wheel. Slabs can appear on any symbol. When you land 5 of them on any position of the board you trigger this special money wheel feature game. You spin the special wheel for extra prizes. Possible prizes you can win are free spins, bonus rounds, extra wins or even the progressive jackpot.
Max Bet must be played to win the progressive jackpot.
Adjustable Bets and Lines
You can adjust you bet sizes and even the number of lines you play. Best strategy is to almost always play all lines but if you choose you may change that in this game. Betas are adjustable from $0.30 up to a maximum of $150.00 when playing all 30 lines.
Average RTP
The long term average rtp of this game is 93.60%
Conclusion or Wrap Up
Considering this game was released back in 2012 the 3D graphics are decent. The concept of the game itself and the extra bonus rounds was fun in testing. We actually did pretty well on the free spins from the mini slot game but not very well on the roulette side game. The money wheel game awarded us free spins in a few rounds.
Overall the game has a few cool features but with an rtp below 94 we will most likely not be adding it ton one of our favorites. If you would like to see a more updated version of the Mr Vegas slot series, see our slot review of Mr Vegas 2 here. The Mr Vegas slot games can be found at Betsoft casinos.
Slots Casino

300% Match Bonus
US Accepted
Mobile Available
Progressive Jackpots
Live Dealer Games
18+ Terms and Conditions Apply
See casino site for more information. Please gamble responsibly. 18+ begambleaware.org.