Oriental Flower
Offering 4 different jackpots in addition to free spins round the Oriental Flower slot from Dragon Gaming s a pleasant game to play.
A 5 Reel Slot
Direct from Dragon Gaming this 5 reel slot game has a nice pleasant feel to it. With up to 243 ways to win and 4 different jackpots.
The game uses a standard 5 x grid layout and has up to 243 ways to win.
Oriental Flower Theme
Taking place is Southeast Asia even the background music gives you the feeling of visiting an Asian tropical island. The in game symbols fit the theme and culture very well.
Win one of the big jackpots and you just may picture yourself sitting on a tropical beach sipping cocktails spending your winnings.
In Game Symbols
Symbols seen in the game include a pretty Thai girl, followed by an elephant, a statue and a boat. The mid value symbols include 4 different fruits.
First up is a durian. Oddly this fruit has a very pungent smell to it despite it's center being known as very sweet. Next is the Mangosteen has a tough purple skin and it's sweet center is often used in jams in countries like Vietnam, Thailand, and Indonesia. Rambutan is the red fruit. It actually gets it's name from the word "hairy" and has a spiky rind or skin. The fourth fruit is known as the Asian dragonfruit. You may recognize it as a pitaya or strawberry pear. The low value symbols are the cards, A, K, Q, J. 10 and 9.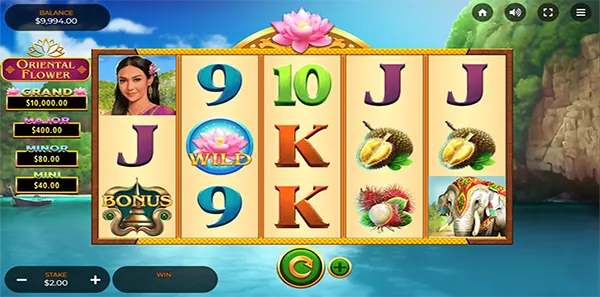 Match Wins
The chart below payout is based on a $2.00 wager. To determine the payout structure of other bets, change the bet and view the paytable in the game. It will change dynamically with your chosen wager.
Thai girl matches of 5 pay 50.00, 4 pay 10.00, 3 pay 5.00.
Elephant matches of 5 pay 40.00, 4 pay 8.00, 3 pay 4.00.
Statue matches of 5 pay 30.00, 4 pay 6.00, 3 pay 3.00.
Boat matches of 5 pay 20.00, 4 pay 4.00, 3 pay 2.00.
Durian or Mangosteen matches of 5 pay 10.00, 4 pay 2.00, 3 pay 1.00.
Rambutan or dragonfruit matches of 5 pay 7.00, 4 pay 1.40, 3 pay 0.70.
Any specific card symbol matches of 5 pay 3.50, 4 pay 0.70, 3 pay 0.35.
All matches are counted left to right in consecutive order starting on the left most reel. Symbol wins are multiplied by the bet according to the pay table.
Oriental Flower Wild
The wild symbol is in fact an oriental flower. Wild symbol substitutes for all regular game symbols except bonus.
Wild Oriental Flower and Feature Game
In addition to the wild symbol helping you increase match wins, the more often you land them the closer you get to the jackpot game. As you play in the base game each time you land a wild it will add to the flower in the top center of the game board. Once the flower is in full bloom you start the feature game for a jackpot.
Jackpot Game
At the start of the jackpot round you will see a game board with 12 flowers. As you select the symbols they will transform into a Mini, Minor, Major or Grand symbol. You continue to select flower symbols until you have a match of 3 symbols. Once you match, you win that prize. Jackpot prize payout is based on the following table.
Mini Jackpot is 20 X the bet.
Minor Jackpot is 40 X the bet.
Major Jackpot is 200 X the bet.
Grand Prize Jackpot is 5000 X the bet.
Bonus Scatter Symbol
Bonus scatter symbol counts anywhere on the board. Landing 3 or more trigger the bonus free spins round. Free spins amount is as follows:
3 scatters are 10 free spins and 5x the bet size.
4 scatters are 10 free spins and 10X the bet prize.
5 scatters are 10 free spins and 50X the total bet prize.
Wilds are not collected during free spins rounds. An additional feature of the free spins round is that all low value symbols are removed. This adds some value immediately to matching wins during the round. It also means there are fewer symbols from which the matches are chosen. Without doubt this increases the odds of match wins slightly during the round.
Bet or Wager Range
The minimum bet per spin is $0.20 and the maximum is $40.00 per spin.
Not The Greatest RTP
This slot game is rated with a Return to Player (rtp) of 94%.
Conclusion of Slot Review
While we did like the overall feel to the game we do not rate it in our top choices. The theme is nice, good graphics and even has pleasant background music. However the rtp is too low for us as we do prefer slots with a higher rtp.
We did like the method to play for the jackpots and in fact we did hit on a minor jackpot during two different game sessions for the review.
Since it does have the jackpot rounds we will probably play it again. Indeed we do like to take a few spins on jackpot games frequently. You can find this game at online casinos that carry the slots from dragon Gaming.
Superslots

250% up to $1000
US Accepted
Mobile Available
Progressive Jackpots
Live Dealer Games
18+ Terms and Conditions Apply
See casino site for more information. Please gamble responsibly. 18+ begambleaware.org.