Crazy Cat Lady Slot
Crazy Cat Lady slot review that looks at this slot from WGS where players can win one of 4 possible progressive jackpots.
Released by WGS in Late 2022
This video slot from WGS has gained a bit of popularity since it's release. You have the opportunity to win one of 4 possible progressive jackpots. These are completely at random and is no doubt a factor in that popularity.
This is a 5 reel video slot with 100 fixed paylines. 100 lines are active for all spins.
Crazy Cat Lady Slot Theme
You probably have already guessed the theme of this slot game. It is centered around cats and their owner the crazy cat lady. Players that a;so like the company of felines or those that enjoy their antics will enjoy this game.
Let's Meet the Cats
Besides the crazy cat lady herself, during the game you will also meet free spin cat and grumpy cat. Then there is also jackpot cat. Throughout the review we will discuss each of these characters more.
The main regular symbols of the game, which are cats, can be best described by the picture frame they reside in. They are the blue cat, orange cat, purple cat and beige. Additional symbols with reduced match value are the A, K, Q, J and 10.
There is also the named cats for the progressives which we will cover below,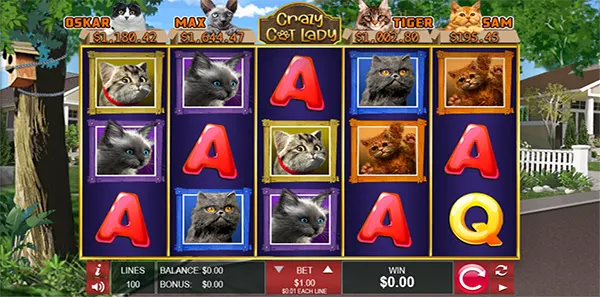 Payout Schedule
A closer look at the paytable from inside the game is shown below. As mentioned above, for the purposes of the paytable explanation we will use the frame color to describe the cat symbols.
Blue Cat matches of 5 pay 4000, 4 pay 300, 3 pay 50.
Orange Cat matches of 5 pay 1500, 4 pay 200, 3 pay 40.
Purple Cat matches of 5 pay 1000, 4 pay 100, 3 pay 30.
Beige Cat matches of 5 pay 500, 4 pay 75, 3 pay 30.
A or K matches of 5 pay 300, 4 pay 50, 3 pay 20.
Q matches of 5 pay 200, 4 pay 40, 3 pay 15.
J matches of 5 pay 150, 4 pay 30, 3 pay 10.
10 matches of 5 pay 100, 4 pay 20, 3 pay 5.
Grumpy Cat matches of 5 pay 50, 4 pay 10, 3 pay 5.
The amounts shown are multiplied by the per coin line amount. Example at $1.00 per spin is $0.01 coin size bet per line.
Free Spin Cat
A very cute cat in a green picture frame is Free Spin cat. When you get him anywhere on reels #1. #3 and #5 the award is 10 free spins. Additionally during the free spins rounds all match win amounts count doubled. You can re-trigger the free spins during the round by landing them again.
Crazy Cat Lady Slot Symbol
The crazy cat lady symbol is the wild in the game. She can appear on any reel. She will substitute for all regular symbols in the game except for grumpy cat scatter.
Grumpy Cat Scatter
We personally think grumpy cat is cite, but a close look reveals he does look grumpy. Maybe he did not like his picture taken.
Grumpy cat is the scatter symbol and pays anywhere on the game board when you land 3 or more.
Jackpot Cat
The grumpy cat image can also become the jackpot cat. Landing 5 jackpot cat symbols, 1 on each reel, guarantees you a win of one of the 4 progressive jackpot amounts.
The name for the win is a jackpot-cat-in-the-box win.
4 Progressive Jackpots
There are a total of 4 possible progressives active in the game. They are named and clearly visible at the top of the game board at all times.
Their names are Oskar, Max, Tiger and Sam. The amounts on these jackpots will vary at times. We have seen some of them range from a few hundred dollars and sometimes climb to the low to mid thousands of dollars.
As an example, the day we took the game screen shot Oskar was $1180, Max $1644, Tiger $1002 and Sam $195. We returned a few days later for further testing and Oskar was $680, Max $2250, Tiger $541 and Sam $181. Congratulations are in order as it appears a few lucky players picked up a few progressive jackpots. A clear example the jackpots wins are frequent.
Bet Limits
Keep in mind there are 100 fixed lines as they are active for all spins. Bet limits are adjustable starting at a minimum of $1.00 per spin. You can raise the maximum per spin amount is up to $200.00.
Return to Player
Crazy Cat Lady slot has a rating of an average return or RTP at 96.30%. This is the amount of funds that will be returned to players ob average over long term or many thousands of spins. We most often enjoy games more when the rtp is 96 or above so this fits within that range.
Verdict on Crazy Cat Lady Slot Review
Decent slot game without any complicated methods of winning. We did not personally win any of the progressives but a friend of ours at another site win over $500 last week playing it. We found the wilds and free spin symbols appeared often enough in our review game sessions to make it fun to play. While having up to 100 win lines is nice we personally enjoy playing games with more choices in the lower wager amounts. It is a fun game, but is not the best choice for players that like spin amounts in the $0.20 – $0.40 ranges.
You will find this game at casinos with WGS slot games so if you want to try it see the listing below.
Ripper Casino

AU$10.00 Free
Mobile Available
Progressive Jackpots
Live Dealer Games
No Deposit Bonus
18+ Terms and Conditions Apply
See casino site for more information. Please gamble responsibly. 18+ begambleaware.org.