A Night With Cleo
An investigative review of the slot from Qora Gaming called A Night With Cleo. See why this game is loved by players.
Released from Qora Gaming
Recently released by Qora Gaming this slot is turning heads and entertaining players everywhere.
Initially the game may have been released using the name o A Night on the Nile, but the majority of the online casinos that carry this game use the A Night With Cleo name. We think it is actually more fitting since she is the main character of the slot game.
Ancient Egypt Theme
As you might have guessed by the name the slot is about Cleopatra and ancient Egypt. Beautiful and seductive as she is, she can also provide huge wins during the gamble rounds and in the form of wilds.
In case you have heard this previously, yes Cleopatra may actually partially disrobe. But you can only get her to do that if you are willing to gamble. We will explain more below.
Entertaining Video Slot
The format of this slot game is a very entertaining 5 reel video slot. It has a fixed 20 paylines. Great graphics and some animated symbols and rounds.
Game Symbols
During regular game play you will see a number of symbols that all ft the theme very well and can be directly related to Cleopatra herself. The symbols seen during regular spin rounds are the Eye of Horus, a scarab, a golden necklace, followed up by a gold ring and a bracelet. The bracelet is actually a 2 headed snake facing opposite directions with jewels on it.
Additional regular symbols are the A, K, Q, J, 10 and a 9.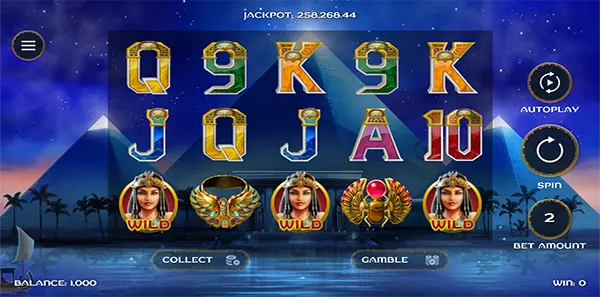 Exposing the Paytable
Looking at the payouts for matching symbols, this is direct from the in game paytable. These match amounts are for matching like symbols on a payline, from left to right.
In the paytable example below we will base the payout on a $1 spin bet. If the match win is $25 it means the bet was $1 with a match equal to 25X the bet.
Eye of Horus when matched 5 for $25, 4 for $5, 3 for $1.25 2 for $0.10
Scarab for matches of 5 for $25, 4 for $5, 3 for $1.25 2 for $0.10
Gold Necklace matches of 5 for $20, 4 for $5, 3 for $1
Gold Ring or Snake Bracelet matches of 5 got $10, 4 for $3.75 or 3 for $0.50.
A, K for matches of 5 for $7.50, 4 for $2.50, 3 for $0.25.
Q, J, 19 when matched 5 for $5.00, 4 for $1.00, 3 for $0.25.
9 for matches of 5 for $5, 4 for $1, 3 for $0.25 and 2 for $0.10.
This game has an extremely unique method of showing the payable wins. You can change the bet in the game and visit the paytable at any time to see the interactive adjust paytable amounts.
A Night With Cleo Wild Symbol
Cleopatra is on the wild symbol. She will substitute as wild for all symbols except the scatter on payline wins. All wins using a wild are doubled.
Scatter Symbol
The scatter symbol is obvious and the symbol is a a keyway or keyhole. The key to unlocking the free spin rounds are to land 3 or more scatter symbols.
The free spin round is 15 free spins and the wins will be multiplied by the multiplier shown at the beginning of the round. Free spins can also be re-triggered during free spin rounds.
Double Up Option
During all normal spin wins you have the option of a double up gamble. You will see a count down and must decide during that time whether to gamble the win. The gamble option is a double or nothing gamble. If you win the gamble your win is doubled.
When you take the gamble you go to a screen where Cleoplatra is holding a flower in each hand. You pick one flower. One will be an X2 and doubles your win, the incorrect guess forfeits the win and returns to regular spins.
Cleopatra Removes Clothing
During the gamble option rounds you can help Cleopatra undress. Each time you choose the correct flower and win the gamble she will remove one piece of clothing. If you continue to choose correctly each time she will be naked from the waist up, and you will have done very well doubling your win 5 times.
In addition to making her disrobe, at least one of rounds during our review we took a 2 dollar win and turned it into $64. Obviously we did not do that each time, but it is cool to pick the right flower a few times.
Progressive Jackpot
A Night With Cleo slot has a random progressive jackpot. We have seen this jackpot in various sizes but it is common for it to be quite sizeable at time. While performing the review recently the amount was over $272,000. To see the current jackpot prize amount just visit the game at any casino that has it.
Bet Limits Adjustable
The slot allows for very easy bet adjustments. Limits are adjustable from $20.20 u to $200 per spin.
Return to Player
We have seen the RTP listed on this game lower at some of our friends slot portals, but a number of the casinos we tested the game do in fact list it at 95.45% return to the player.
Conclusion and Opinion of A Night With Cleo Slot
As often we have mentioned in our slot reviews, when a game has some interactivity from the player, beyond clicking spin we enjoy the game more. The gamble option in this game adds that bit of excitement. Getting Cleo to take off clothing adds that tiny bit of extra humorous tone to it, and when you use the gamble option you sometimes can't help but say, c'mon Cleo take it off because that is a win for you. So a laugh and winning a bet.
The game has a very respectable RTP and the graphics are nice, game runs smooth and it fits the theme well.
We have played this game at a number of casinos and we think you will enjoy playing it too.
Slots Capital

Deposit $25 and get $100
US Accepted
Mobile Available
Progressive Jackpots
Live Dealer Games
18+ Terms and Conditions Apply
See casino site for more information. Please gamble responsibly. 18+ begambleaware.org.