Lions Lair Slot Review
One of RTG's Older games, our Review of the Lions Lair slot investigates whether you will want to play this game or not.
An Older Slot
As one of the older games from RTG, the appeal of this game is somewhat dwindling. Even so it still draws players and you may like the classic feel.
Initially launched in 2005, we do feel the game could use an update in the graphics and technology.
Leo the Lion
Press releases on this slot we have read, name the main character Leo the Lion.
The premise is that Leo's, son a lion cub also named Leo keeps escaping from the lair. Your job is to find him and help with his safe return.
Hopefully you will see some rewarding slot symbols as you look for him to reunite them.
As a side note, some say the other lion is a lioness, and is Leo's mate. We will try and verify that through an RTG representative.
We prefer to look at him as the lion cub as we are always intrigued by the back story. Such as in this case a brave dad just wanting to protect his son and get him home safe.
Lions Lair Slot Review Screenshot
Below we have a screenshot of the Lions Lair game to give you an idea of the game board layout.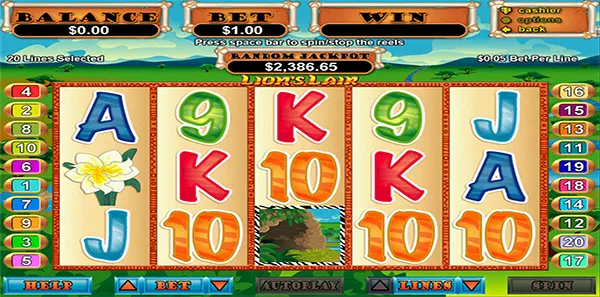 Slot Layout
This is a standard 5 reel by 3 row grid layout.
There are a total of 20 paylines and although it is an older game still has approximately 97.5 RTP.
Lions Lair Slot Symbols
Brief introduction to the symbols in the Lions Lair slot game. We will look closer at the payouts for matches, as well as the feature triggers, below.
Leo the Lion (subtitute)
Leo the Lion Cub
Zebra
Paw Prints
Flower
A, K, Q, J. 10, 9
The Lair (scatter)
Match Prizes from Paytable
Now for a breakdown of the paytable matches and prizes returned.
Lion Cub (or Lioness) match 5 for 3750, 4 for 500, 3 for 100, 2 for 5.
Zebra if you match 5 for 2500, 4 for 300, 3 for 75, 2 for 5.
Flower or Paw Print match 5 for 500, 4 for 150, 3 for 15, 2 for 3.
A, K match 5 for 250, 4 for 25, 3 for 5.
Q, J match 5 for 150, 4 for 2, 3 for 5.
10, 9 match 5 for 125, 4 for 15, 3 for 5.
Scattered Lairs are 3 for 3 or 2 for 1 (more on that below)
Matches are counted left to right, including scattered lairs.
Substitute Lion
Leo obviously rules the jungle and can and will substitute for all symbols in the game except the scattered Lairs.
You will only see Leo in reels 1, 3 or 5. Any match win on a payline will be doubled if Leo is on the payline.
Scattered Lair
The scattered Lair will only appear on reels 2, 3 or 4.
Any time you get a scattered Lair on a win, the scatter win is added. Your win is multiplied the bet. For 3 for 3X or 2 for 1.
Lairs can also trigger Free games.
Free Games Trigger
The Lions Lair feature triggers when you get scatters on reels 2, 3 and 4. 12 Free games.
The multiplier for the free games is displayed on the screen. 2X, 3X and 5X. Each multiplier is used for 4 games, and are only used once for each set of 12 games. So that is 4 free games at 2X, 4 at 3X and 4 at 5X.
The Lions Lair feature can be retriggered. When you do it will start at the conclusion of the first set of 12. The re-trigger is another set of 12, with the multipliers of 2X, 3X and 5X as in the previous round.
You Pick the Multiplier
At the beginning of the free spins, you get to pick whether you want to start with 5x, 3X or 2X. As stated above the multiplier has a limit of 4 spins each, but up to you what order that happens.
Random Jackpot Award
This game also features a random jackpot that you can win.
The jackpot is completely at random and can be won at any time. Will you be that lucky player?
Bet Limits
The bet limits are not static and can be changed. The game allows for bets from $0.01 up to a total of $5.00 per line.
So from 20 cents per spin up to $100 when betting on all 20 lines.
Sad to Report Download Only
Kinda disappointed and sad to say this game is only available in the download version of RTG casino software.
RTG actually has a number of games that fall into this category, and this happens to be one of them.
Conclusion on Game Review
To conclude we do feel this is a decent enough game.
The multiplier during the feature games changing is something not seen often. We really enjoyed being able to pick the multiplier order during the Lions Lair feature.
We see the biggest thing holding this slot back is the lack of it being offered in the browser only based version of the RTG casino. If this ever changes and the game is upgraded we will revisit this review and raise the rating.
Fun otherwise
Casino Max

325% tp to $3250
US Accepted
Mobile Available
Progressive Jackpots
Live Dealer Games
18+ Terms and Conditions Apply
See casino site for more information. Please gamble responsibly. 18+ begambleaware.org.