Aztec's Treasure Slot Review
To provide visitors an understanding of the game we look at the Aztec's Treasure Slot Review. Helping you decide if you want to try the game.
Game Release
This game was released in 2009 by RTG. Many of the features you like in a slot are in this game like free spin rounds and a random jackpot.
Aztecs Game Theme
The game follows the Aztec theme rather well.
Game symbols are period specific and were items directly associated with the Aztec Empire that were quite dominant around the 15th century.
The Aztec's were a warrior race and extremely proud of their superiority as conquerors. Some of the game represent the different classes of warriors such as the jaguar warrior as well as the eagle warrior. Promotion in to those levels were based on the number of enemies a warrior would capture.
Game Symbols
Let's look at the game symbols and their significance to the theme.
First there is the Aztec king. Then of course we need an Aztec Queen.
You will also see a Jaguar, an eagle warrior mask, gold necklace and an Aztec warrior shield. The shield is also known as a Chimalli, and the Aztec warrior carried his shield with pride.
Additionally the symbols seen will be A, K, Q, J, 10, 9.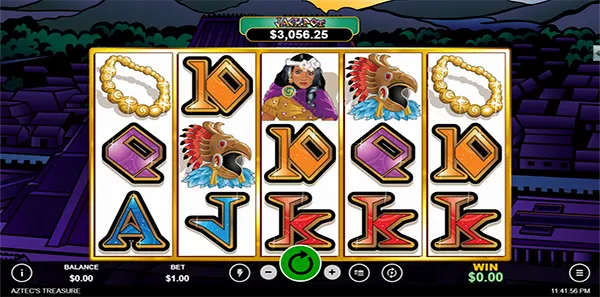 Review Aztec's Treasure Slot Paytable
To familiarize you with the payouts, let's look at the paytable for the Aztecs Treasure slot.
Aztec Queen when you match 5 for 5000, 4 for 500, 3 for 100, 2 for 5 and 1 for 2.
Jaguar if you match 5 for 2500, 4 for 250, 3 for 100, 2 for 5.
Eagle mask for matches of 5 you get 1000, 4 you get 100, 3 you get 50, or 2 you get 5.
Shield or Necklace matches of 5 pay 500, 4 pays 75, or 3 pays 15.
A, K when match 5 for 200, 4 for 25, 3 for 10.
Q, J matches of 5 for 150, 4 for 20, 3 for 5.
10, 9 when you 5 for 100, 4 for 15, 3 for 5.
Idol scatter 5 is 100, 4 is 15, or 3 is 3.
Aztec King Wild
The wild symbol in the game is the Aztec King.
The wild will only appear on reels 2, 3 or 4. Wild does substitute for all symbols except the scatters.
Golden Idol Scatter
Scatter symbol is represented by the golden idol.
Scatters can appear and pay anywhere on the game board. All scatter wins are first multiplied by the amount bet and then added to line wins.
Scatters Trigger Free Spins
You trigger the free spin rounds any time you get 3 or more scatters.
Number of free spins is dependent on how many scatters appear. 1, 2, 3, 4 or 5 scatters awards 1, 2, 5, 15 or 25 games.
Your prize wins a re tripled during the free spin games.
Bet Limits
You can change the bet limits as well as the number of lines bet.
Choices available to you are from $0.01 per line up to $1.00 per line.
Random Progressive Jackpot
This particular slot game has a random jackpot that can be won and paid out at any time. The jackpot amount most commonly seen is often in the thousands of dollars that can be won in a single spin.
Do not confuse this game with the RTG Slot titled Aztecs Millions, as that is a similar game only it is a much larger RTG Network progressive game where the jackpot is at time $500,000 or more. In fact we have seen it grow to well over a million dollars.
Final Thoughts on the Aztec's Treasure Slot Review
This is not a bad slot and I kinda like playing it one in a while. I admit I play it more when the jackpot is higher and I also switch over to the "jackpot" version of the game that has the big jackpot once in a while as well.
Casino Max

325% tp to $3250
US Accepted
Mobile Available
Progressive Jackpots
Live Dealer Games
18+ Terms and Conditions Apply
See casino site for more information. Please gamble responsibly. 18+ begambleaware.org.