The Bank Heist Slot
Fun to play we review the Bank Heist slot game. An entertaining video slot recently released by Dragon Gaming.
Slot from Dragon Gaming
This recent video slot released by Dragon Gaming follows their tradition of feature rich fun in an entertaining slot game. Hitting the casinos in summer of 2021 this game has quite a following of players that sit down to play this game often. Read the review to see why.
Bank Robbery is the Theme of this Game
Join a team of bank robbery bandits and hopefully you can make off with the cash and other riches. Keep you eyes on the lookout for the cops and gather the loot from the vault at every chance you get.
Game Layout
The layout of the game is similar to many video slots with a 5×3 grid. 5 Reels and 3 rows showing. It has 10 fixed paylines with many of the common win patterns you are used to seeing on a 10 line game.
Regular Game Symbols
There are 3 main character symbols in the game. The main male character, the brains behind the robbery, we'll call him lead bandit. Then there is the female, a hot blonde that turns heads, distracts bank workers as the heist unfolds. Additionally there is a 3rd armed bank robber, and he obviously is menacing looking as well. These symbols are followed by a gold ring and a money clip full of large bills. Lastly the minor symbols are a set of diamond studded card symbols of A, K, Q, J, 10.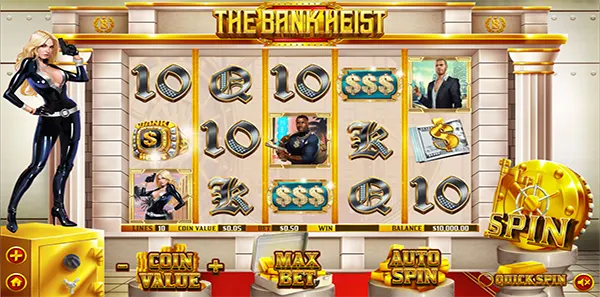 Determining Line Win Amounts
Your line win amounts will be determined by matching symbols on a payline. Symbols need to be exact matched on a pay line and are counted left to right in consecutive order on the line. See the following breakdown of the match amounts from the pay table:
Leader of the robbers for matches of 5 is 750, 4 is 150 or 3 is 20.
Female matches of 5 is 500, 4 is 00, or 3 is 20.
3rd Armed Robber matches of 5 is 400, 4 is 75, or 3 is 10.
Gold Ring matches of 5 is 250, 4 is 75, o 3 is 10.
Money clip of cash matches of 5 is 250, 4 is 50, or 3 is 5.
A matches of 5 is 150, 4 is 50, or 3 is 5.
K matches of 5 is 125, 4 is 25, or 3 is 3.
Q matches of 5 is 100, 4 is 25, or 3 is 3.
J matches of 5 is 75, 4 is 20, or 3 is 3.
10 matches of 5 is 50, 4 is 20, or 3 is 3.
Gold Pendant Wild Symbol
This gold pendant is one necklace you will enjoy seeing hit. It is wild and will substitute for all regular game symbols except the scatters. Landing multiples of this can be huge, for 3 it will multiply the win by X50, for 4 by X200, and by hitting 5 you win 1000X the coin size.
$ Scatter Symbols
The scatter symbols are $ dollar signs, They come in 3 different values. A single $, a double with 2 $$ signs and a third with 3 $$$ signs. When you land 3 or more scatters you earn free spin round. The minimum amount of free spins is 5 free. When you get the free spin round each $$ scatter adds 1 extra free spin and for each $$$ you land 3 extra spins are added to the total.
The maximum that can be earned is a total of 16, but 15 free spins can turn in to a nice win.
Increase the Number of Free Spins
During a free spin round, landing more scatters will add even more free spins to the round. Each additional $ will add 1 extra spin, each $$ scatter will add 2 more, and each $$$ scatter will add another 3 spins to the round.
Multiplier Vault
During the free spins feature round, a multiplier vault symbol may appear on reel #5. The vault symbol is assigned a multiplier value and will remain from one spin to the next. If you land another multiplier vault, the value is added to the previous value. The maximum multiplier value during this period will not exceed 15X.
Coin Value Multiples
Players can easily adjust the bet sizes by changing coin values per line. You can start as low as $0.01 up to $10.00 per coin per line. This makes the game nice to fit almost any budget allowing up to a maximum bet per spin of $100.00
Average RTP is 96.10%
Game is rated at an average return to player of 96.10 %.
The Bank Heist Conclusion
Yet another game from Dragon we enjoy playing. Decent story line set up and even though it is only 10 paylines you line wins have pleasing results. Free spin rounds and the scatters adding more spins during those rounds helped keep the winnings climbing. The way the multiplier vault hit at times during the feature can also be helpful.
To try this game out just visit any online casino that has the Dragon Gaming as a slot provider. Below we have listed one of the featured properties.
Miami Club

100% up to $100 on Slots
US Accepted
Mobile Available
Progressive Jackpots
18+ Terms and Conditions Apply
See casino site for more information. Please gamble responsibly. 18+ begambleaware.org.