Bounding Luck Slot
The Bounding Luck slot launched by Betsoft just in time for the Chinese New Years in 2023. See our review for details.
Betsoft Slot with 1024 Ways to Win
A 5 reel slots with a total of up to 1024 ways to win on spins.
Game layout is 5 reels with 4 rows exposed in a 5 x 4 style grid layout. There are not low fixed paylines, but when symbols match as they do often the win is totaled.
Year of the Rabbit
Released just in time to fit the game theme, this slot is based on the Chinese New Year of 2023. It is the year of the rabbit and certainly that means the rabbit can bring wealth and prosperity. We think playing this game can add even more with big wins.
For more background on the Chinese new year or the zodiac symbols associated, be sure to see the wiki for the Year of the Rabbit.
Bounding Luck Slot Symbol Identification
As you will see each of these symbols fit very well in the theme are are symbols easily recognized in the Chinese culture.
A breakdown of the symbols from the game are as follows. The high value premium symbol is a white rabbit. next up are the golden ingot and the paper lantern. Next up are the symbols most players would consider in the medium range value and they are the fireworks and a red envelope, obviously with a rabbit image on it.
Minor symbols are no surprise with card symbols represented as A, K, Q, J, 10, 9.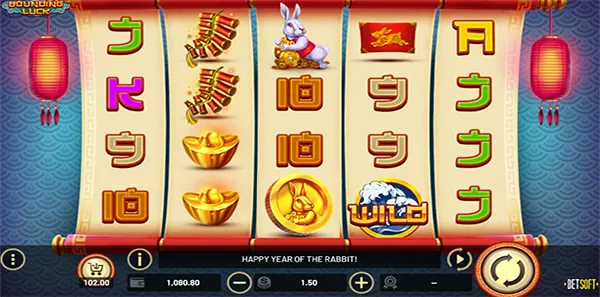 Pay Table Example
For the purposes of this example for the paytable we are showing the match win amounts based on a single spin bet of $1.50. You can see the amounts change by adjusting the bet size and looking at the in-game paytable at any time between spins.
White Rabbit matches of 5 pay 6.00, 4 pay 3.00, 3 pay 1.20 and 2 pay 0.30.
Golden Ingot or Paper Lantern matches of 5 pay 4.80, 4 pay 1.80, 3 pay 0.90.
Fireworks or Red Envelope matches of 5 pay 3.60, 4 pay 1.20, 3 pay 0.60.
A, K, Q matches of 5 pay 1.80, 4 pay 0.60, 3 pay 0.30.
J, 10, 9 matches of 5 pay 1.20, 4 pay 0.42, 3 pay 0.18.
Match wins are paid on like symbols matched in consecutive order left to right.
Wild Clouds Symbol
The wild symbol is in the shape of a coin with clouds on it r=that says wild so easily identified. as with most slot wilds is will substitute for any regular symbol except the scatter.
Wilds appear on reels #2, #3 and #4 only.
Rabbit gold coin is the scatter. When you get 3 scatters you win the free spins award as well as an instant payout.
Rabbit Gold Coin
The Scatter is the rabbit gold coin. Scatters can land anywhere on the game board. When you get 3 or more scatters you get an instant payout and free spins. In the below chart we will show the scatter payout based on a $1.60 spin bet.
3 rabbit coins earns 8 free spins and instant payout of 3.00.
Get 4 rabbit coins and earn 15 free spins and a payout of 15.00.
For 5 rabbit coins you get 20 free spins and an instant payout of 30.00.
During free spins round the wilds will reveal a 2x or 3x multiplier. The multipliers multiply on winning combos and can add up fast.
You are eligible to re-trigger the free spins by landing 2 or more rabbit coins. This will add 5 more free spins to the current amount left.
Special Golden Rabbit Symbol
During free spin rounds there is an additional special golden rabbit. This rabbit is not on a coin but he arrives with a special talent.
During the free spin rounds you will collect golden rabbits which upgrades symbols for even bigger wins. Golden rabbit has the ability to change regular symbols to the premium white rabbit symbol. Once converted the symbol will last until the end of the round. See below for an example of the conversion of the symbols.
Collect 4 or more golden rabbits and transition the golden ingot to white rabbit.
Get 7 or more golden rabbits and you change paper lanterns to the white rabbit.
Collect 13 or more golden rabbits and fireworks will transition to white rabbit.
Gain 15 golden rabbits and the red envelope will transition to white rabbit.
The more golden rabbits you land during the round the higher the probability of landing high value white rabbits for larger wins.
Bet Amounts
The bet amounts supported by the Bounding Luck slot start at a minimum of $0.25 per spin. You may also change the bet size and a total of $50.00 per spin amount is supported.
Buy In Feature
You have the option of using the buy-in feature at any time if you want a free spin round. As we did above in the paytable and rabbit coin example we will use the amounts based on a bet size of $1.50. You access the buy in feature by clicking on the shopping cart symbol.
8 Free spins for 102.00.
15 free spins for 211.50.
20 free spins at a cost of 307.50 based on a $1.50 bet.
Besides paying your way to the spin rounds with the bonus rabbit features, they work the same as explained above. The wilds with the multiplier and the special golden rabbits will be active during the round.
Average RTP 96.28
Long term average return to player from the game sits at 96.28.
Bounding Luck Slot Review Wrap-up
The final conclusion is we think this slot will appeal to a large segment of players. If you like slot games based n the Chinese characters, symbols or culture this will be appealing. Although we do not give the game our highest rating the free spins were certainly rewarding enough to keep us interested. We are fans of other Betsoft games and casinos so we see ourselves playing this game again.
Visit the Betsoft casino shown below or you can read more of our other casino reviews throughout the Slot Machine World website.
Davincis Gold

300& Crypto Bonus
US Accepted
Mobile Available
Progressive Jackpots
Live Dealer Games
18+ Terms and Conditions Apply
See casino site for more information. Please gamble responsibly. 18+ begambleaware.org.